Art Nouveau armchair introduction
This is the second product introduction in this blog.
I would like to introduce this time the Art Nouveau Armchairs.
Unfortunately we have only two left...
Why are we introducing them with this few products?
It is because they are so gorgeous and really popular.
Art Nouveau itself is a very popular antique style and those armchairs are so popular among the Art Noouveau furniture.
Viennese style Art Nouveau
The Art Nouveau chair which we mainly sell in our shop,
They are rather than French Art Nouveau, Wiener Werkstätte Art Nouveau style.
So it may be more correct to say they are Jugendstill than to say Art Nouveau.
I will explain in detail with photos of those Viennese-style Art Nouveau armchairs later...
Art Nouveau's furniture,
they basically look delicate and curved.
However, Viennese-style Art Nouveau furniture,
They look a little bit similar to Art Deco.
You can see many of them with geometric design.
(geometric design is one of the most important characteristic of the Art Deco style.)
So now, I would like to introduce some of them referring to our products.
Our Art Nouveau Armchairs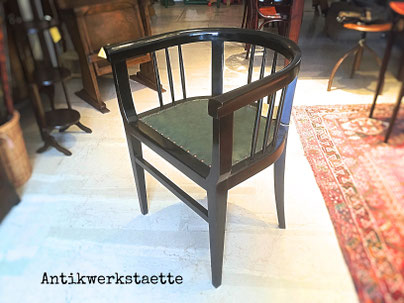 First, I would like to take a look at this photo rather than the explanation,
This is an armchair that we still have in our shop.
Like this armchair,
It has a semicircular seating surface and curves wood along the seating surface from the armrest to the backrest.
This is the shape seen in Viennese Art Nouveau.
I think that you can see that a slightly more straight line is used than the Art Nouveau style.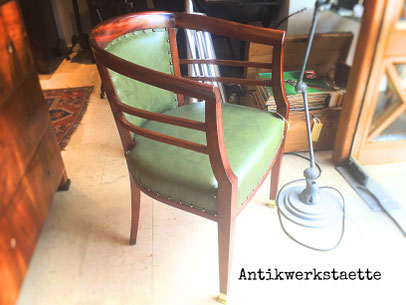 Next,
This armchair's backrest is covered with leather as well as the seating surface,
and also the cushion of the seating surface is deep,
so it is more comfortable to sit on.
(It is a bit (?) Heavy though ...)
You can see well by looking at the two pictures,
the back leg slightly faces outward.
This is also one of the features of Art Nouveau's armchair.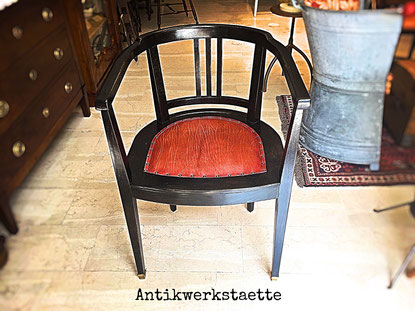 Unfortunately the third one is an armchair that has already been sold out.
It is a very modern design with vermillion colored leather and black painted wood.
Decoration of the backrest part is very beautiful,
there is a delicacy which is like Art Nouveau.
After all, this looks a little bit like Art Deco.
So it was an armchair that was perfectly compatible with Art Deco's writing desk.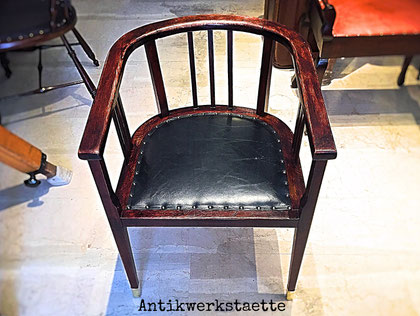 The fourth one is an armchair with a very chic impression.
I've introduced a type of armchair that looks much like this,
I think whether the impression is completely different even in the difference of decoration of details as well as color.
These styles are strongly influenced by Otto Wagner and Joseph Hoffmann of the Wiener Werkstätte.
In our shop, there were also Wagner and Hoffman's chairs before,
but it sold out immediately.
(I should have taken some photos ...)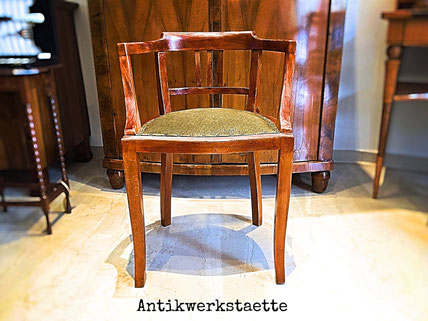 The last one has a slightly different impression than before.
Compared to the upper four armchairs, there are many curved parts and overall it is also smaller size.
This color is also a brighter impression, this is rather armchair for women.
This armchair suits the interior of Biedermeier style from the bright wood color.
Because delivery is impossible, basically store sales limited
How was Arm-nouveau's armchairs?
Although it is Art Nouveau, it is unexpectedly simple and I think that there are many designs easy to match with modern furniture.
They are also quite comfortable as well.
Unfortunately those size are quite large so we can not send them by parcel.
(Although it can be transported by container, but the fee ...)
Please see the real armchairs at the store!