About Bauhaus style
You may have heard the word "Bauhaus".
This time I would like to introduce Bauhaus style desk lamps,
so I would like to introduce a little about Bauhaus first.
The word Bauhaus is originally the name of a German design school.
It is just a name of a school,
but now it is also the name of the design.
Because Bauhaus affected so much to the modern art such as this school's idea and design. 
Bauhaus existed as a school in 1919 to 1933,
and it was the era of chaotic that the interval between the first and the second world war.
A number of functional and beautiful designs that were created in such age backgrounds are continually being loved by many people even in current times. 
Bauhaus desk lamps
Now,
Although it is about Bauhaus desk lamps which is the subject of this time,
in a word, there are various style to call  Bauhaus desk lamps.
This time I would like to introduce the desk lamps of the design called Kaiser Idell among the Bauhaus style.
Kaiser Idell is a lamp designed by Christian Dell who was responsible for the metal workshop of Bauhaus.
(There are various things such as floor light besides desk lamp.)
The name of Kaiser Idell is a mix of Kaiser of the lamp production company (back then) Gebr. Kaiser and dell of Christian Dell with idea.
So what kind of light is Kaiser Idell's light?
I would like to take a look at the items of our shop.
Product introduction of our shop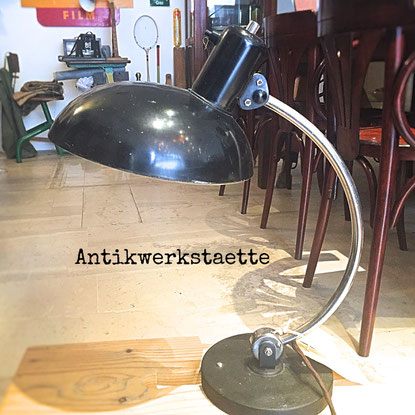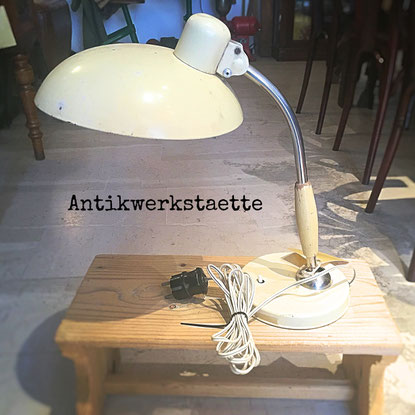 First of all, I would like to introduce the above two photos,
These two desk lamps are not of Kaiser Idell.
It is not Kaiser Idell's, but this round lamp shade and freely moving neck, the design is almost the same as Kaiser Idell.
This design is a style called Kaiser Idell.
Because it is not Kaiser Idell,
In our shop we call it Bauhaus Lamps.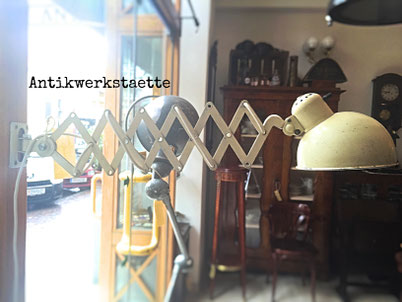 Is this lamp called desk lamp or somewhat in doubt ...
It is a stretchable wall lamp called scissor lamp,
This style was also created by Kaiser Idell.
... Unfortunately this is not Kaiser Idell's, though...
Kaiser idell's ramp has not appeared in this blog even once...
Kaiser Idell's lamp, previously we had in our shop, but sold out recently.
I forgot to take pictures.
I can not show you something like "This is the Kaiser Idell!" ...
I will introduce you someday we can get them again.
Tentatively,
the design are like the photos above,
if the lamps has this "Kaiser Idell" name on the part of the lamp shade,
that should be the original Kaiser Idell lamps.
(It's too short to summarize ...!)
Available in our shop and online shop
Those Bauhaus lamps are available at shops, online shops, by phone and by e-mail.
Those lamps are Electric appliances so I have to note it...
Those lamps are made for Europe countries it means voltage and plugs are made for Europe.
If you are the out side of Europe and want to buy and use them in your country,
you need to repair them.
I strongly recommend to repair them by professionals.
Electric appliances are quite delicate and vintage goods are more delicate.
Please use them safely.