Almost every day various new items will arrive
It is already May.
In Austria, cold days continued in the end of April,
but summer will come soon after in May.
(It was snowing in Klagenfurt in late April in 2016,
but this year it seemed to have snowed in another city.)
Well, I would like to change how to write the blog of product introduction.
Until now I was focusing on one genre, theme, maker etc. and introduced them.
However,
if I write the blog like before,
I can not introduce some products or I have to introduce some products which already sold.
So from now on I decided to introduce new products arriving at the timing of writing blogs.
So the products' genre, age and style on this blog will be quite different.
When we can get the same style products in the same time,
I would like to introduce them as same as before.
New arrival in the first week of May
So I'd like to write the first product introduction in May.
There are many classical style antiques at this time.
The classic style makes the shop glamorous.
French flower stand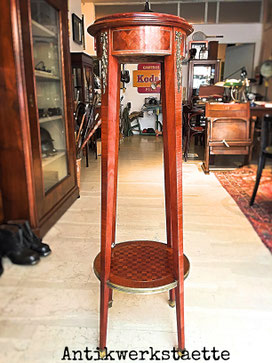 First of all, I would like to introduce from this photo.
This item is a flower stand.
It is an antique flower stand which was made around 1870 in France.
1870 is a time when the second empire style was popular in France.
The fine brass decoration and the parquet wood pattern are beautiful.
This looks like the empire style revival.
It seems to be heavy because this is tall and made by thick wood,
but it's quite light so it's easy to handle.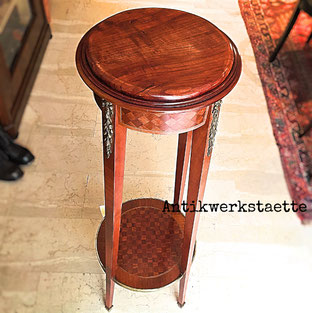 The repair is completed.
The beautifully polished timber will be an eye-catching interior even with this flower stand alone.
As mentioned earlier,
it is not suitable for putting heavy vases etc because it is light,
but it is best for small vase, artificial flower etc.
It stands out without putting anything special,
so I think that it is possible to use it as an interior as it is.
By the way the height is about 112 cm.
Victorian Vitrine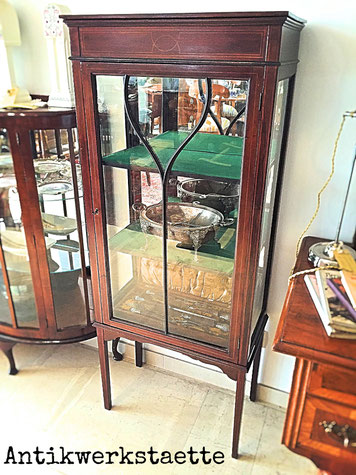 Next, it is a Victorian style Vitrine from England.
Vitrine is a German or French word meaning a showcase or glass case.
Although this Vitrine is from the Art Deco period,
there are not much Art Deco style furniture in the UK,
so unfortunately this is not the Art Deco style as well.
(Personally this is sad because I am a big fan of Art Deco styles.)
This vitrine is a Victorian style.
This has a classical impression from the parquet wood pattern or the decoration of a fine part,
but this looks like a little bit Art Deco style because of this symmetrical design and thin lines.
... But it is a Victorian style.
Some of those glasses are original from the Victorian era,
so this vitrine has a strong antique impression.
I will add a more detailed explanation ...
This vitrine is a typical vitrine made in England,
so the inside of the vitrine's rear has a mirror. 
The front and both sides are glazed,
so that light can be easily taken with the mirror part together.
Like those show cases are of cause suitable to use for some decorating interiors such as figures,
but also good for some silver tableware or dishes which has pretty paint etc.
I recommend to use it as a case for showing and using.
It is also recommended to use this as a case to store for the purpose of using it while decorating it with decorating dishes such as tableware and paint made of silver, as well as interior for ornaments such as figures as well as storage of such types.
Why not try new showing storage with vitrine?
Victorian side table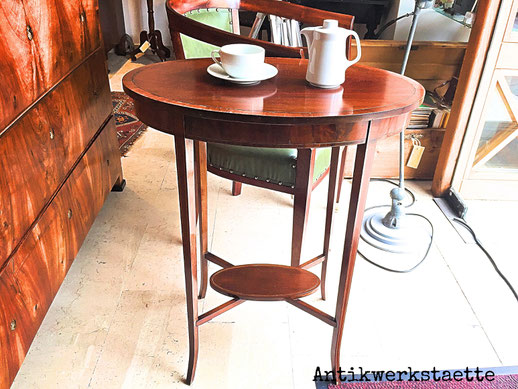 The last is also Victorian style furniture.
This is a English side table of the Victorian style.
In Victorian style it is a simple design,
so it is easy to clean.
It is hard to see a little in the photo,
this has parquet and thin pattern on the wood.
It has a delicate impression coupled with thin leg lines.
The size,
The height is 71 cm,
and the horizontal length (maximum value) of the table surface is 60 cm.
It is a side table that can use in various ways because it has a wide table surface.
The side table is one of popular products in our shop,
but the usage will change according to its shape and size anyhow.
Previously There was a side table with a narrower table surface than 15 inch laptop PC.
(It was a Victorian style as well.)
It is suitable for bedside etc. when it is like this small.
This side table introduced this time is better than using in the bedroom (of course, there is no problem even at the bedside),
I think that if you use it as a coffee table etc. I think that you can use it maximum.
Actually still only a part
As for the new product I introduced this time,
actually I have been able to introduce just a only part.
Spring is the best season to welcome new furniture,
(Meant like a turning point or whatever...)
so I would like to post new furniture that I could not introduce in the next time.
Why do not you welcome your favorite furniture in this spring and summer?