This time, I will introduce the items arrived before.
I will introduce new products that we currently have in our shop as well as the last time.
Even if I said those are new products,
the products we are introducing this time was purchased from the middle to the end of April,
it may be slightly old to call they are new products.
However, the items I introduce this time are not uncommon in our shop,
so I thought that I would like to introduce them on this occasion.
New items of May 5, 2017
So I'd like to introduce new products from now.
This time I am going to introduce 3 products. 
Vintage dining chair, bicycle and Art Deco style wall clock.
Vintage dining chairs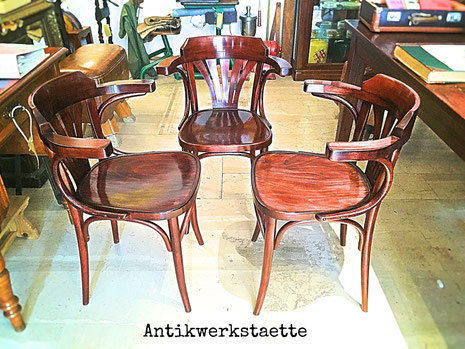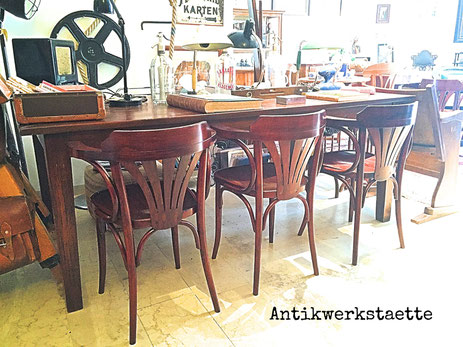 First, I introduce dining chairs.
I described as vintage in this title,
unfortunately it is not an antique because this dining chair seems to be around the 1970s,
so that they are vintage dining chairs.
The design of the backrest part and the armrest part look new,
but they are dining chairs which have many beautiful bending trees like Art Nouveau style Thonet.
They are so beautiful chairs that do not lose even in antiques.
In the photograph, only 3 chairs are shown,
but our shop has 4 dining chairs of the same type.
To be able to arrange the same things is also difficult to do with antiques.
Every chairs have been restored,
(Originally they were not so bad shape)
we paint something like a varnish called shellac on those wood and give a shiny look like a mirror and coloring.
The color of this shellac is red.
Shellac is a paint that is also used for violin and guitar.
The color tone is not only by red color like this dining chair, but also it is various like yellow color and a little more brown color etc.
(also it depends on the original wood color.)
Shellac nail comes out on internet search,
but this seems different.
Bicycle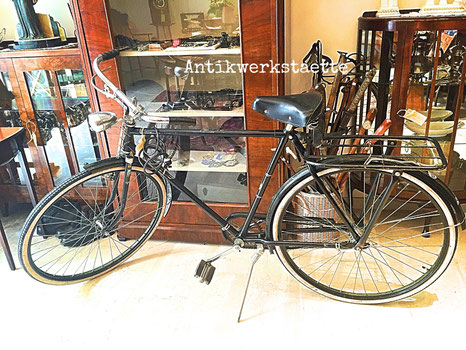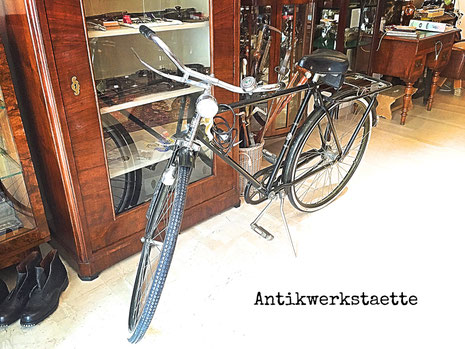 I didn't expect to have bicycles in our antique shop,
but sometimes we sell bicycles at our shop.
(summer season only)
This bicycle is a city cycle,
It is a bicycle suitable for riding in town and  daily use.
The steering wheel, the brake, and the front light remain as original.
The leather of the saddle and body color is remained perfectly,
so it is a very well-conditioned bicycle.
The part of the rack,
Unlike the current bicycle design,
it looks like a bicycle of postman several decades ago and it is so lovely.
Austria has not so much public transportation facilities,
(Except Vienna)
Many people move by private cars, motor bikes or bicycles, etc.
The city itself is not wide and It's hot in the summer but it's dry,
so many people ride bicycles to go somewhere and also for exercise.
Coupled with Austrian antique lovers and bicycle lovers,
Antique bicycles are always popular items.
Art Deco style pendulum wall clock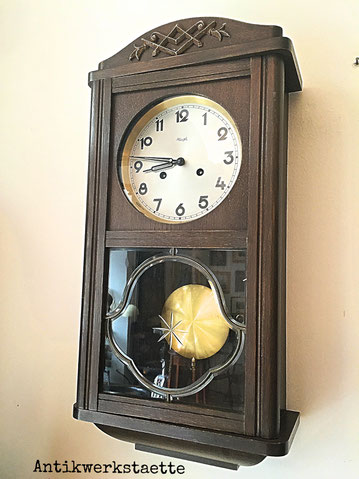 The last, I introduce the wall clock from Art Deco era.
This wall clock may not have such a rare product in antique shops,
but this is the fourth handling in our shop.
Yes, it is rare in our shop.
This wall clock watch was produced by German watch company called Kienzle.
Kienzle is a watch company with a long history in Germany and still familiar to many people.
They are producing not only wall clocks but also clocks and watches.
In Europe such quite famous Kienzle's wall clock,
Although it is of the Art Deco period, the condition is pretty good.
It is a hand winding type clock, so it takes time and effort to wind it occasionally.
However the pendulum and the signal are working properly,
so it is a pretty beautiful clock.
The good part of hand winding is where you can make the signal soundless.
Basically a hand winding type pendulum clock has two holes that are likely to wind the spring.
(You can see in the clock face of the upper picture.)
One of these two is for watch, and the other is for signal,
so if you think that the signal is quite noisy, it is ok if you do not wind up the signal's spring.
(Sometimes there are some pendulum clock with just one spring the timepiece and the signal, that is so... inconvenient.)
Such a hand winding type pendulum clocks are very rare recently.
The clock like with this condition is more unusual.
They are queit unusual (at least for us)
The products I introduced this time were very rare in our shop.
Especially bicycles,
I care about daily care for the bicycle,
but I am confused because it is completely different from furniture ...
Anyway, like this time's products,
bicycles and watches, etc.,
our shop handles relatively various items besides antique furniture.
(We also sell microscopes and suitcases.)
If you have the item you are looking for,
our shop purchasing team will search all over Europe,
so we are waiting for your requests anytime.