This time it is antiques from France
We went to France for purchase recently!
(But I didn't go there... I have never been to France... it 's close but faraway country somehow.)
This time I will introduce some of the antiques we bought at that time.
I want to introduce everything,
but some of them are still repairing or they are too difficult to explain because we don't know the details.
So I will introduce you when I can find out the details.
I think that France is a country that is truly blessed with antiques.
Of course Austria, Germany, England, Italy etc are also treasures of antiques from my sight ...
France is basically full of antiques that are with quite good quality or so rare  even if you look all over Europe.
The price is reasonable sometime as well.
(Of course, they are not repaired so we need to repair them with a lot of times...)
I will introduce such a wonderful French antiques.
New items of May 10, 2017
So I would like to introduce today's new products from now.
This time,
two desk lamps in the Art Deco period and the coat hanger of the Art Nouveau period,
three antiques above.
Jumo desk lamp 1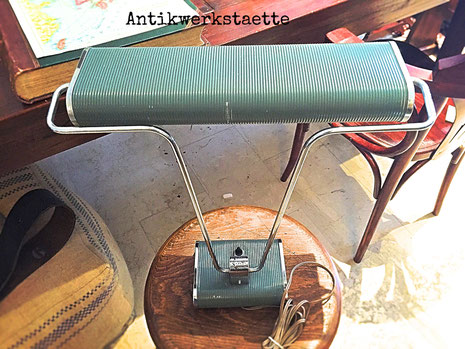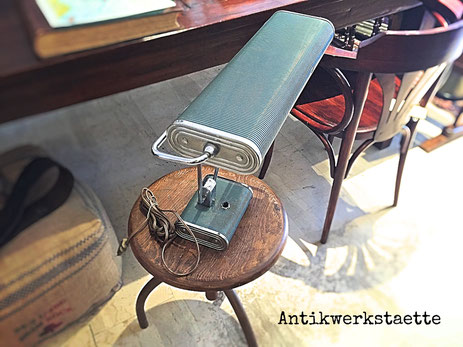 First of all, I'd like to introduce an Art Deco style desk lamp #1.
This desk lamp is a lamp manufactured by a company named Jumo of France,
and the designer is a woman who was working in France called Eileen Gray.
(She was born in Ireland.)
This desk lamp is called N71.
This N71 is so popular that we can say this is one of the representative products for Jumo, even for Eileen Gray, .
It is quite difficult to find out even in France.
(You can buy easily if you pay a lot of money.)
Coupled with the geometric and delicate design of Art Deco and the industrial design,
it is a cool and easy-to-handle desk lamp.
It is a feminine design with loose curves and thin lines,
but a calm color and overall a very simple design is acceptable style regardless of age and youngsters.
Eileen Gray had begun studying art in London,
and then she was attracted by the Art Nouveau style and moved to Paris.
She returned to London once,
but after that she went back to Paris and start lacquer art with Sugawara Seizo who worked as a lacquer craftworker in Paris.
The texture with a calm atmosphere with the sparkling Eileen Gray is probably influenced by this lacquer art.
There is a deep involvement with Japanese art in an unexpected place.
Jumo desk lamp 2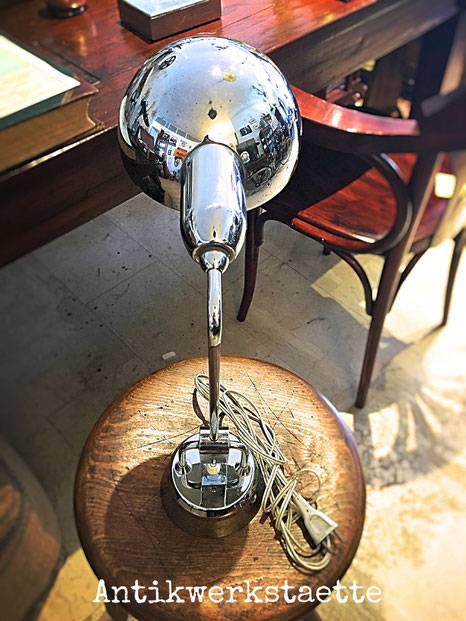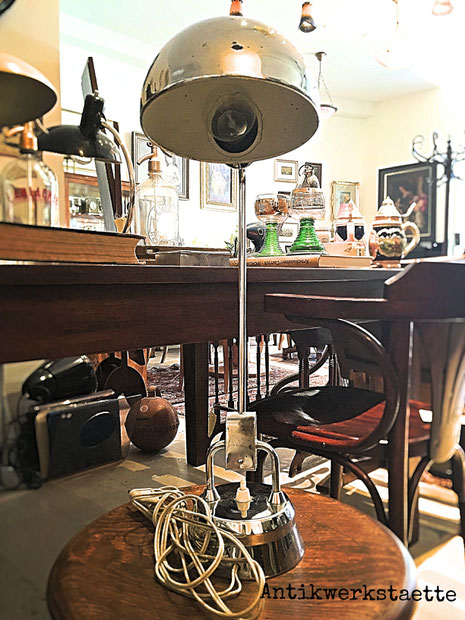 The next item is also Jumo's desk lamp.
It is good,
Two Jumo's products came in the same time.
This is also a desk lamp manufactured by Jumo France.
The designer is a French woman named Charlotte Perriand. 
This desk lamp is also made in the Art Deco period.
The design is a little bit more the industrial style than the Art Deco style.
It is a beautiful desk lamp with a delicate rounded form that is feminine like that in such simplicity.
Well this designer, Charlotte Perriand is a French industrial design pioneer. 
Works left by her are all beautiful,
functional and easy to use,
just like nice lamps, nice design with a little pop impression.
Somehow, even Charlotte Perriand has a little relationship with Japan too.
She came to Japan as an adviser of industrial design in 1940.
(It seems she knew Sori Yanagi the Japanese industrial designer as well!)
Just as the era was era,
She had exiled to Vietnam from Japan after former Japanese army joined the Second World War. 
Then she had been started learning woodwork and textile technology in Vietnam.
After that She went back to France,
Oriental design gained in Japan and Vietnam has much influence on her work. 
Bentwood coat stand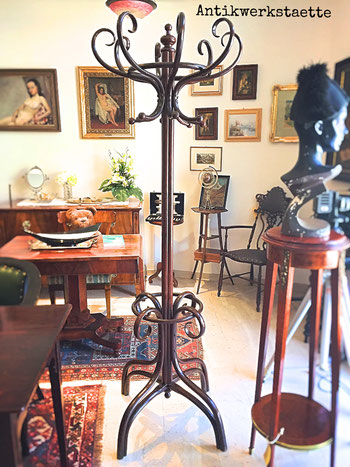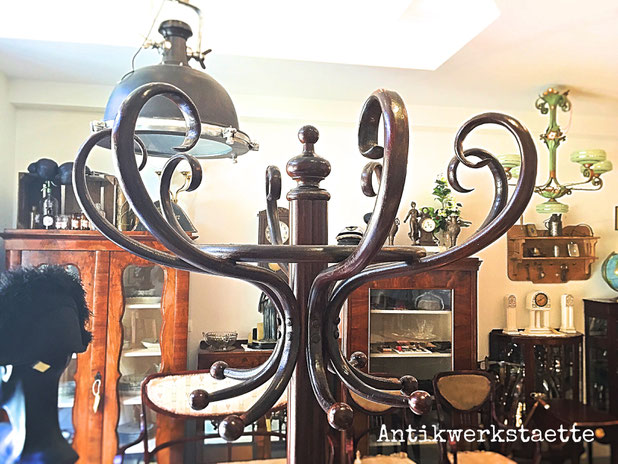 The last,
I will introduce Bentwood's coat stand.
Even though we bought it in France this is not related to France at all.
Bentwood coat stand of Art Nouveau style is unknown,
but it seems it is made by Tohnet or Fischel.
It is inferred this is made in around the 1900s from the wood stopping method and the texture of the wood.
It is about 2 m in height so it is so eye catch coat stand.
There are 8 hanger parts and high enough,
so it is convenient coat hanger.
Both Tohnet and Fischel are antiques that we often find in Austria and Germany,
but for some reason we found it in France this time.
France has everything of antiques.
This coat stand, conditions like almost no scratches is quite unusual even in Austria.
The easy-to-use and durable interior of bent wood has always high popularity,
so we recommend you to consider purchasing as soon as you find what you like.
France, good things
It was possible to stock only the good items for this French purchase.
Whether the Jumo lamps or the coat hanger of bentwood,
they can not find easily in Austria.
Many flea markets and auctions will be held in France until winter.
(Auction is through the year, anyway.)
... Someday I also want to go to France,
I pray that the day will came,
This time around here!