Introducing unusual antiques this time
This time, I would like to introduce some rare antiques as antique shop products.
Normally antique shops don't have those products.  
The products I am introducing this time came to our shop also a while ago.
New arrival items don't come so often...
Aside,
I am introducing products this time,
metal sign, tennis racket, bicycle, airline bag, electric fan ...
It is a bit young products to call them antiques.
It is not even furniture our main products.
From that reason, I called them "unusual".
Although it is far from the classic style, they fit the industrial style etc.,
and also I wanted to introduce them because they are very interesting products.
It is perfect for those who would like to try to arrange interior with usable and reasonable price.
New items of May 12, 2017
So I would like to introduce today's new products from now.
As I mentioned above,
this time there are five products,
metal sign, tennis racket, bicycle, airline bag, electric fan.
For the first time I will introduce 5 products at the same time!
Vintage metal sign from gas station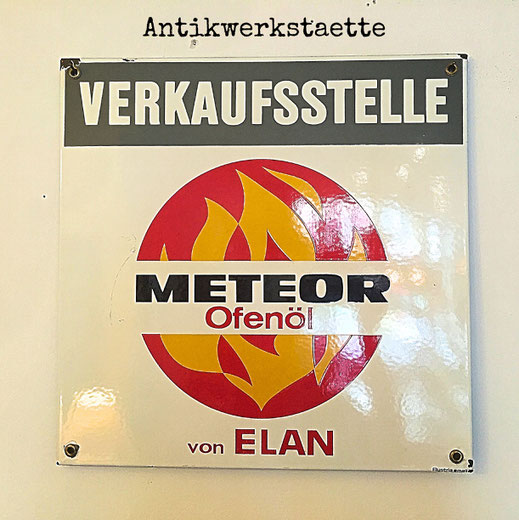 The first product I introduce is the metal sign used in the Austrian gas station.
It belongs to a refueling company named ELAN and is described as a kerosene sales station.
(Verkaufsstelle means the selling place, Ofenöl means kerosene.)
It is not a worldwide famous company like shell,
but the company ELAN is a famous refueling company in Europe.
(It seems like a gas station that is currently deployed in France.
I do not drive a car...
so I'm sorry if I write something wrong...!) 
This metal sign is enamelled on metal.
It is a sign with better durability and more beautiful than a sign just painted on the metal.
You can see the lack of the paint on this sign at four corners,
but overall I can say that this is good condition with few scratches.
They are one of the most popular interior in Europe now to decorate the vintage metal signs and posters in the rooms.
(Various people are buying those signs.)
Those metal signs are quite easy to handle as compared with paintings,
so why not decorate them in your room as a pop interior.
Vintage tennis racket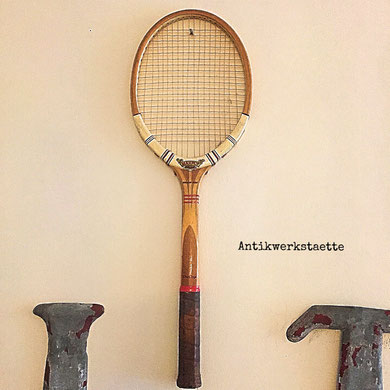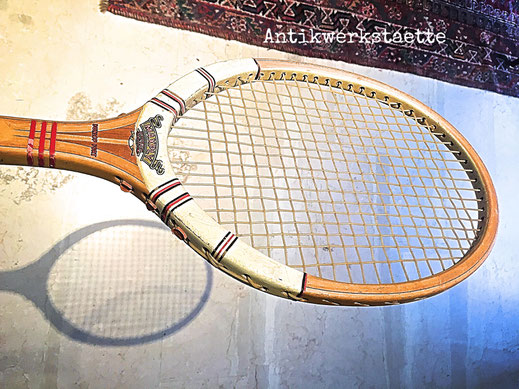 The next product is a vintage tennis racket.
This tennis racket belongs to the Dunlop from the U.K.,
and this is the racket form Maxply series.
This tennis racket seems to be made around the 1960s,
unlike the current tennis racket, most parts are made of wood.
(I am not good at tennis things because I don't play tennis,
but current tennis rackets are made of carbon material or the like ...?)
This racket itself is not so rare,
but I think that wood patterns and colors are now unusual styles.
Aside from whether you can actually play tennis with this racket,
(I think that there is no problem if you use it as just playing.)
Decorating on the wall makes it a very unique interior.
We have decorated vintage tennis rackets on our walls as well.
I recommend this racket for the person who is looking for something fun interior.
Vintage bicycle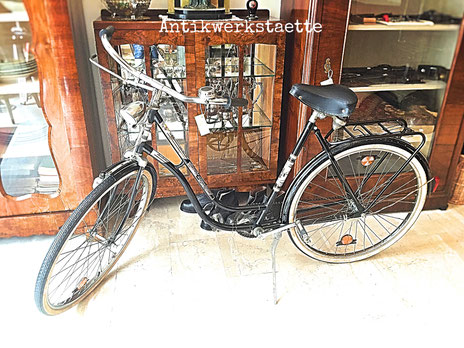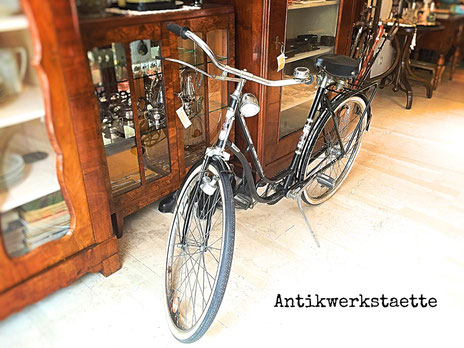 Next product is...
a vintage bicycle, again.
When I introduced the vintage bicycle before,
I wrote the arrival of the bicycles are pretty rare.
However it arrived again.
And within a week ...
Isn't it rare at all? probably someone thinks that,
but this is the first time to handle bicycles in such a way.
The bicycle here is a city cycle that is easy to ride even for women wearing skirts,
because the part between the handle and the saddle called the top tube is not high.
Handle and light parts look so vintage like.
The leather of Saddle has some tears,
and you can see some rust on the silver colored part,
but it is good quality for normal use.
Vintage bicycles, especially those made in Europe,
they are very popular items,
so please consider purchasing when you find your favorites. 
British Airways Airline Bag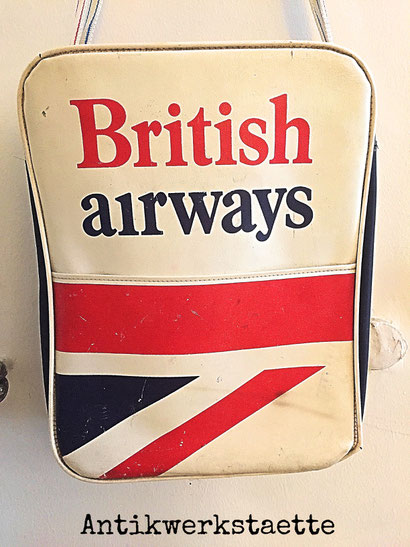 Next product is an airline bag of British Airways.
It seems to be made around in the 1970s.
Airline bags are novelty bags that airlines produced for advertising from the 1960's to the 1970's.
Airline bags are very popular,
because there are many collectors and also popular for vintage lovers.
So those are always in short supply.
This British Airways' airline bag has brilliant in color,
and part of Union Jack is designed in the front pocket.
So it is a very fashionable bag compared to other airline bags.
This product has a little bit yellowing and scratches,
but it is no problem for normal use.
In addition to using it as a bag,
you can also use it as a decorating interior on the wall,
together with Sputnik style or Space age style.
(This bag is decorating the wall in our shop currently.)
Airplane related goods are highly popular and difficult to obtain,
so I recommend you to buy immediately when you meet the item you like.
French electric fan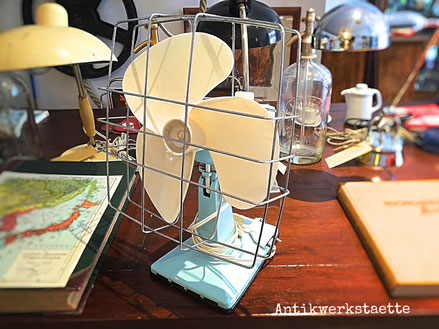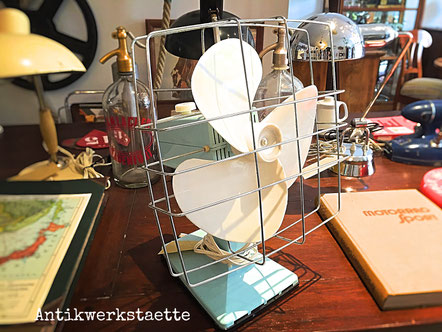 This will be the last.
The last is a seasonal product.
The last product I introduce this time is a vintage electric fan from France.
This fan is made of plastic.
The manufacturer, made in which country and the production year ...
I do not know everything at all.
(Please tell me if you know about it.)
Small electric fan like a toy,
this can swing and change the angle,
so it is a fine normal fan.
The wing guard part of the electric fan made roughly.
That looks like a vintage product.
Why do not you welcome a pretty fan as an interior to your house in this summer? 
Cute vintage products
This time, there were no antiques,
there were just vintage products.
Vintage items are postwar items,
the age is young,
since mass production has become fully established in the world,
so you can buy them reasonable price compare to antiques.
(Of course, designers' interior etc. are expensive because they are so few ...)
Vintage items are fashionable, pretty, and quite rare now.
So they are quite interesting to use as a interior or also use as a normal product.
And also it is interesting to collect those vintage items as your collection.