Introduction of THE antiques
This time I am introducing products which are typical antiques for our shop.
I am introducing Furniture and lights mainly.
When the summer will come,
a lot of flea markets will be held,
and we will be able to restore many furniture when the days are getting longer.
So in summer relatively larger products (furniture etc.) comes to our shop than in winter.
It seems that this year's Easter apparently seems to put pressure on the household budget in April and May,
(This year, April 16th was Easter Sunday.)
The number of purchases is also a lot compared to last year,
so our shop currently have lots of products.
The antiques to be introduced from now on are really outstanding and eye-catching products.
New items of May 17, 2017
So I would like to introduce today's new products from now.
I am going to introduce this time,
Art Nouveau style table set,
Vintage radio,
Art Deco stand light,
Art Deco desk lamp,
Stand light using antique car light,
those 5 products above.
They are all wonderful antiques.
Art Nouveau style table set
The product I introduce first is a set of Art Nouveau style table and chairs.
The company made them is Jacob and Josef Kohn the interior design company in Vienna.
J & J Kohn was a company that has been designing with Wiener werkstaette and Thonet,
which means this company was one of the leading manufacturers of Vienna Art Nouveau.
Actually, it is the first time to have a complete table set in our shop,
so our shop is fascinated by this perfect Art Nouveau style interior.
This table and the wood part of the chair are painted with shellac,
the luster like a mirror brings out the goodness of wood.
In addition to the wood,
the seat and back side of the chair have been replaced with new fabrics.
Fabric has gold embroidery based on shiny purple color,
it fits well with shellac color of wood.
Art Nouveau style table and chairs are items which we often handle,
but this is the first time to handle bench sheet.
That is not too big,
but an Art Nouveau style bench with a presence.
If there is in your room, the atmosphere of your room will be pretty and gorgeous.
This table, two chairs and benches,
It is quite surprising price when you hear they are 2200 euros,
but even with modern no-brand dining set there is sometimes the same price.
With antiques and J & J Kohn furniture,
actually this price is incredibly reasonable.
Vintage radio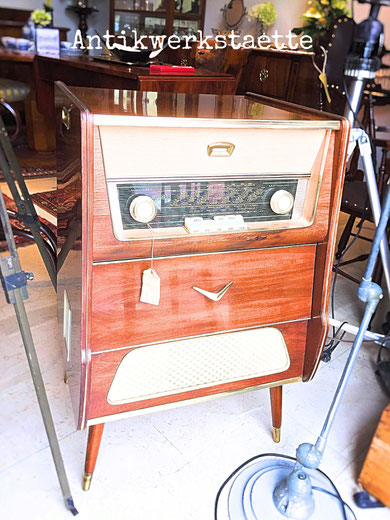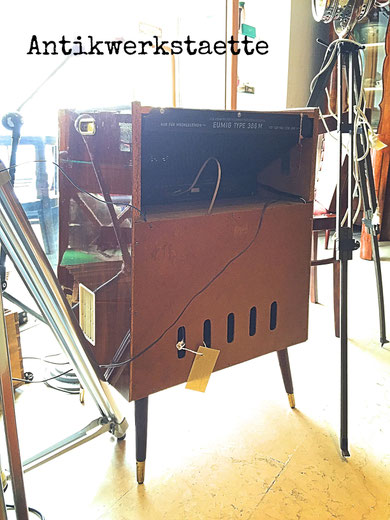 The next item is a vintage radio.
This radio is made by the company of Vienna 's eumig now disbanded,
and this product name is Eumig Musikschrank 386M.
This radio was manufactured from the 1950s to the 1960s.
The size is 540 x 450 x 812 mm which is much larger than the modern radio,
and this shiny wood and the decoration of golden metals are beautiful,
so this radio is a very eye-catching product.
Actually, this radio has a record player.
The record player is attached to the drawer part in the center of this radio.
It is a multifunctional radio.
It is a radio that you can have better sound because the space of the speaker is quite wide.
This radio,
It was almost a brand new radio even though it is about 50 years old,
because this still has the receipt, the instruction manual and the price tag.
The price is 250 euros,
with this look and this quality, is really reasonable. 
Art deco stand light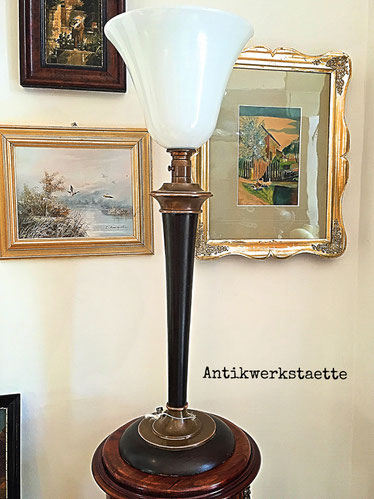 The next item is an Art Deco stand light.
It is made around the 1930s.
Because it is a little small as a stand light,
so in our shop we put on the flower stand.
The height is about 75 cm.
It is a stand light with a presence although it is small.
It is hard to see in this photograph,
The bottom part and the dark brown part of the stand,
this is not metal but wooden.
By using wood in part,
this is able to reduce weight and looks warmer.
The lampshade has opalescent glass,
it is a lovely design like a flower that the design spread outward as it goes upwards.
This stand light is a quite small size as a stand light.
However,
it is a stand light that can be so cool interior by using it as a second stand light or as a light for a big desk or table.
This is 160 euros.
It is an affordable price as an interior of the Art Deco style.
Art deco desk lamp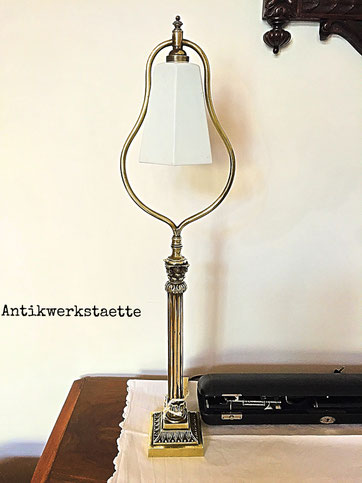 Next,
This is also an Art Deco lamp.
This desk lamp is about 64 cm tall,
and a little bit higher desk light than others.
Although the decoration of the metal part is symmetry as the Art Deco style,
The feminine form fits perfectly with the Art Nouveau style as well.
The lamp shade part is gentle milky white,
and if you use a yellowish light colored bulb,
gentle light will illuminate the room.
This desk lamp is made in France.
This has French-like style.
It looks really delicate and artistic.
It is common in French antique lights,
The sockets are completely different from the other country.
The cap of the bulb in Austria is most likely screw cap (Edison screw cap),
but the French bulbs seem to be the common type of B22 with 2 bridges.
(Currently it seems that B22 and other European standards E27 are mixed.)
By the way ...
The Japanese light bulbs and the North America bulbs etc. are E26 standard.
It is 1 mm smaller than the European E27 light bulbs.
Antique appliances like this,
actually, it doesn't fit in other countries,
or actually you can not use them,
there are so many things kind of like that,
Please ask us about appliances if you have any question.
The price of desk light is 160 euro.
Stand light with antique car light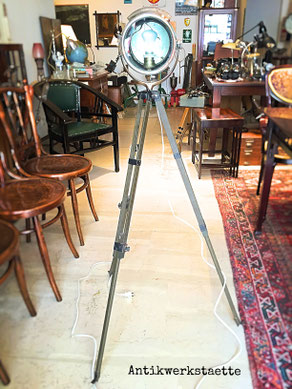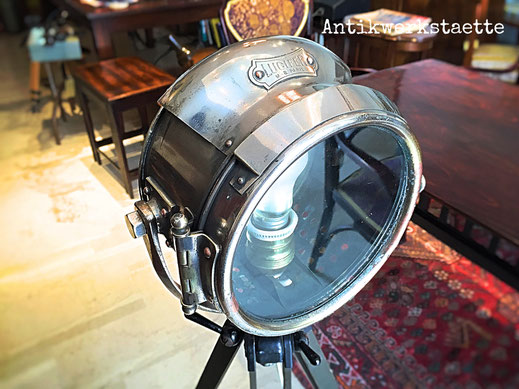 The last item is a stand light.
This stand light is an up-cycling stand light made by combining an antique car light and a tripod.
The light part,
it was produced by a company named M. B. Lucifer in France,
and this is made around the 1900s.
It is a fashionable design that looks like a studio light or something.
This is completely different from the head light of modern cars.
By combining other materials with lights used in such cars, boats, trains, etc.,
it is possible to create new interior.
The price of this stand light is 280 euro.
I think that it is a reasonable price,
because the only light part is trading at around 200 euros.
Beautiful antiques
This time was an introduction of the typical beautiful antiques.
There are many large products,
so there are many things that can not be posted on the online shop,
but please feel free to contact us if you want to know about the products or purchasing. 
By the way ...
Although it has nothing to do with antiques at all,
I learned the word of Strammer Max of German cuisine today.
The name sounds so strong.
But it is really simple dish.
A slice of black bread with ham and fried eggs.
Strammer Max is most likely for breakfast.
I guess if I eat it in the morning, I will be able to anything...