This time, introduction of variety of antiques
It is already in the middle of May.
The temperature become quite hot in Austria.
Well, this time,
I would like to introduce various antiques and vintage products such as tables and small goods.
Besides large-sized products,
smaller furniture and small goods are also arriving day by day.
There are no barcode for antiques or vintage products,
so management is quite difficult.
Really.
All Austrian shops are obliged to have a cash register.
(It is so surprised, it includes stalls and markets as well.)
It seems that there is an obligation to issue receipts.
I do not really understand what is the sales management with the cash register without any barcodes.
... Aside from complaints,
I would like to start introducing products.
New items of May 19, 2017
So I would like to introduce today's new products from now.
I am introducing products this time,
Thonet card table,
Art Deco nesting table,
Document shelf,
Vintage typewriter,
Vintage thermos bottle,
those 5 products above.
I would like to introduce various kinds of products.
Thonet card table
The first product I introduce is the card table of Thonet.
This square table is a table mainly for playing some card games.
All four sides have a small drawer,
and it is possible to store playing cards and so on.
In Europe,
it is not a simple card game like a Japanese style,
people play more like poker and canastar,
those are the games kind of gambling.
(It is not necessary to bet if you don't want to.)
Because there are many games with complicated rules,
in order to play these card games,
tables with proper space is essential.
This card table,
is a very valuable table because it is an antique of Thonet.
As it is made in the Art Deco period,
it is somewhat simple design as Thonet which is well known as an Art Nouveau furniture company.
Even simple design,
leg part is Bendwood,
Shellac colored wood is beautiful,
I can say that it is a gorgeous antique.
The price is 350 Euro, so it is affordable price.
Art Deco nesting table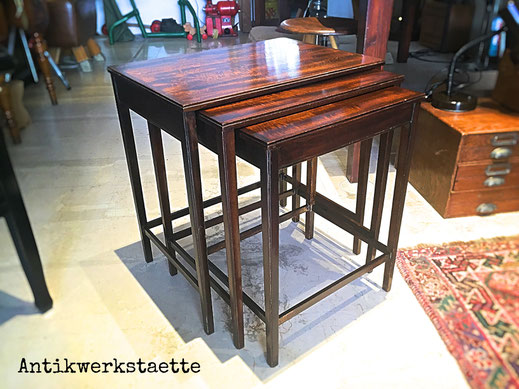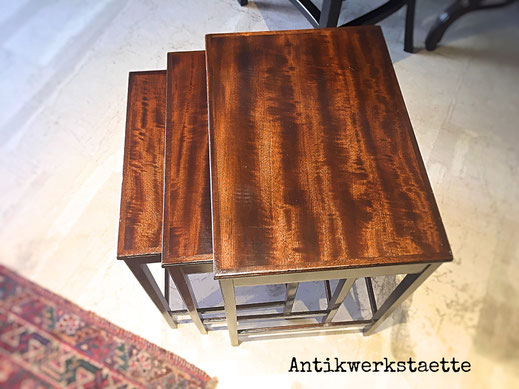 The next product is a nesting table of the Art Deco period in the UK.
A nesting table is a side table,
in which large, medium and small tables (three or more tables of different sizes) come out in a pull-out style.
Nesting tables are often seen in European antiques,
and it first appeared in the 18th century.
Especially in Austria,
the Thonet nesting tables of Art Nouveau style is really popular.
As well as using side tables and decorative shelves,
of course,
It is recommended to use it on a simple coffee table or bedside table as well.
The price is 280 euros.
Nesting tables that you can use them in various ways,
Why do not you try using the nesting tables in your room.
Antique document shelf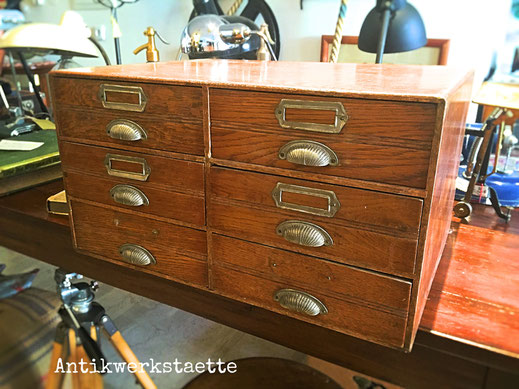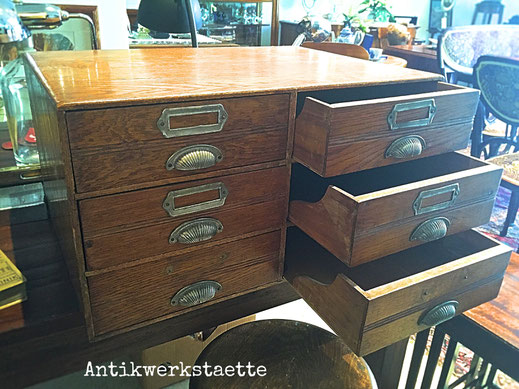 The next product is a document shelf.
Antique document shelf has been popular all over the world for a long time.
Even if I just say document shelves or letter cases,
There are various things that they were used in pharmacies or at the post office or in the office etc...
This item is used in the office.
The size is 53 x 39 x 29 cm,
and all drawers are large enough to fit A4 size paper.
Of course you can use it as a document shelf as it is intended for original use,
If you use partitions etc in the drawer,
you can also use as a shelf for other living goods.
It is fashionable to use at stores and so on.
The price is 95 euros and it is cheaper than the re-product items.
Vintage typewriter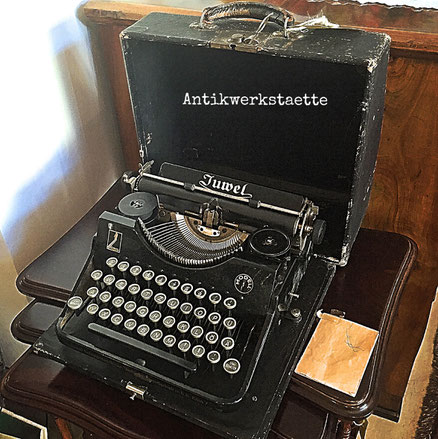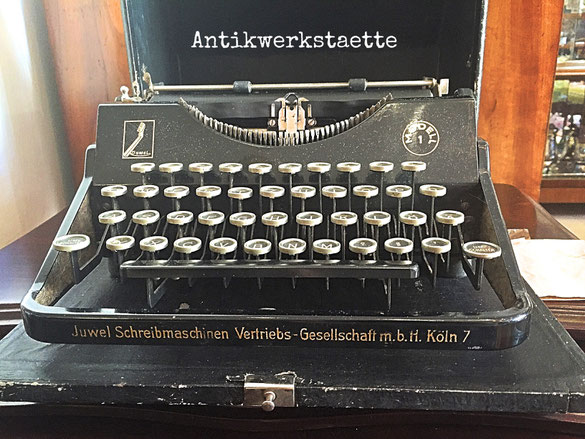 The following product is a vintage typewriter.
This type typewriter belongs to a typewriter production company called Juwel of Cologne, Germany,
and this product name is Model 1.
Currently PC is the normal way to write some documents,
I think that few people who can use typewriter,
but it is a popular product as interior even if you do not actually use it.
This typewriter is with a carry case and a receipt,
and the carry case is a little bit in a bad shape,
but the typewriter itself is pretty good condition.
Although it may not be necessary to actually use typewriters,
(PCs are more convenient overwhelmingly.)
When you use it as an interior in the room or a store display,
the atmosphere changes quite a lot.
The price is 65 euros and it is really reasonable price.
Vintage thermos bottle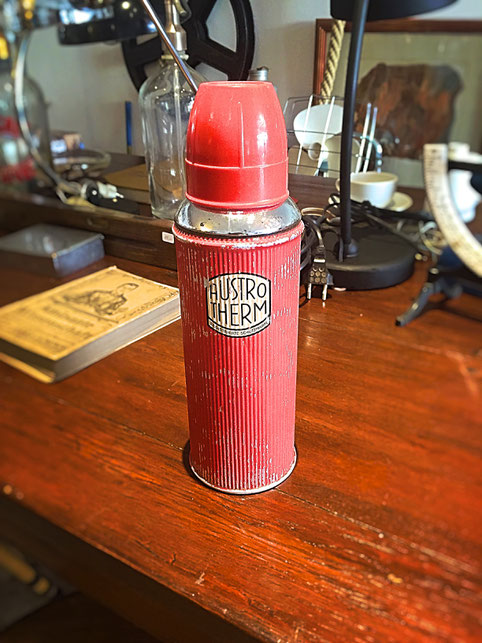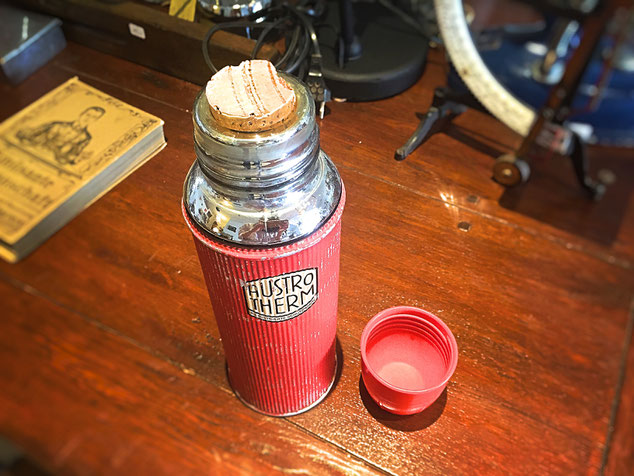 The last item is a thermos bottle.
It is a vintage thermos bottle and it is made in around 1940 to 1950's.
Actually, the thermos bottle has been developed more than 100 years ago.
As people call thermos in English as Thermos,
it was the company Thermos GmbH in Germany that first commercialized as a thermos bottle.
The company called Thermos looks now a Japanese company.
Japan has already so many thermos bottle manufacturers but still try to get the world famous thermos company...
Well this item is a bit different from the current thermos we know.
That is that the cork is made from cork.
(Not plastic with rubber)
Also, since the plastic was prevailing,
the main body is made of stainless steel,
and the cup part is made of resin,
so made of a material that is slightly fragile.
You can see a lot of outside paint lack and scratches,
but inside is nearly as a brand new bottle.
The price is 20 euros and is an affordable price.
From the table to the thermos
This time I was able to introduce various antiques and vintage items.
A large card table is impossible to send,
but other products can be sent as parcels,
so they are registered in our online shop.
If you are interested, please also visit our online shop.
(Customers other than Europe have additional shipping charges.
Regarding shipping fee, I would be pleased if you can contact us from contact once. )
By the way ...
We started twitter now.
It is likely to be irregularly updated,
Thank you for following us.