Introducing small items
It is recently bad weather in Klagenfurt, Austria.
The rain is like a shower and quite strong.
Is it because of global warming?
Anyway,
I would like to introduce small antiques and vintage items in this time.
Honesty Those products which introduce this time are something normally we sell in some flea markets.
Those prices are also flea market prices.
(Some items' prices are unknown...)
In modern time, there are many things that we can not use in our normal life,
There are many things that can be used as for interior, gifts or DIY.
This season when summer is coming,
Let's arrange the new interior with small antiques.
New items of May 24, 2017
So I would like to introduce today's new products.
Products introducing this time,
Sewing scissors, flute, manual sewing machine, candle snuffer, milk can, grater and bicycle light,
those 7 products above.
Most of them Details are unknown, but I would like to work hard!
Sewing scissors
The first item is a scissors for sewing made in England.
Production company and production age are unknown,
and we can see a lot of on this scissors,
but the handles of this scissors are fine and beautiful.
Antique scissors for sewing,
especially European scissors,
are small and have beautiful designs.
So those are good for gifts and collections.
There is difficult to use it for thin thread etc. because there is rust,
but it is no problem if you use it for cutting thick yarn or opening seals.
The price is 10 euros.
It is quite useful if you have a sewing scissors at your place,
Why do not you have one pretty antique sewing scissors? 
Flute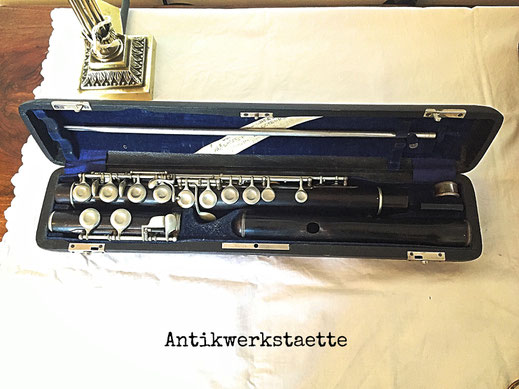 The next item is a flute,
made by Mollenhauer & Söhne in Germany.
We are completely inexperienced in musical instruments,
I think it is probably a flute (whether Alto flute or not, I really don't know.),
It is an unusual item made of wood.
Since the flute is basically made of metal,
this wooden body itself is unusual.
It looks like a little bit a clarinet.
(If you know details please let us know!)
This item is truly full of mysteries,
Mollenhauer & Söhne is a long-established German manufacturer,
The condition is very good,
I only know that much.
Also, Mollenhauer & Söhne Kassel 20492 product number is attached.
The price is still unknown.
(We can't decide yet.)
This is a recommended item for those who like musical instruments.
Manual sewing machine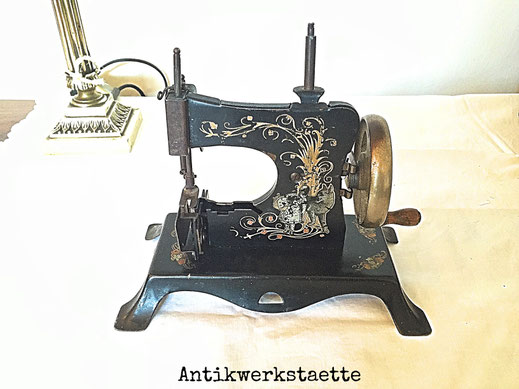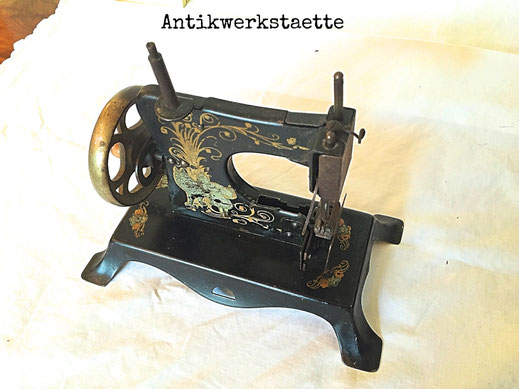 The next item is a manual sewing machine.
It is a small sewing machine.
This size is 20 cm x 11 cm x 18 cm.
You can use this sewing machine by turning the handle which attached the edge.
I often see antique sewing machines with foot pedal,
but this small size is a relatively unusual type.
This product is also unknown production company and age.
There are many lacks of paint painted on the main body,
but you can see the picture.
This picture is a fairy tale, Little Red Riding Hood.
There are difficulties to use in normal way because there are a lot of rust,
but how pretty this form,
please decorate it as an interior or a shop display.
The price is 50 euro. 
Candle snuffer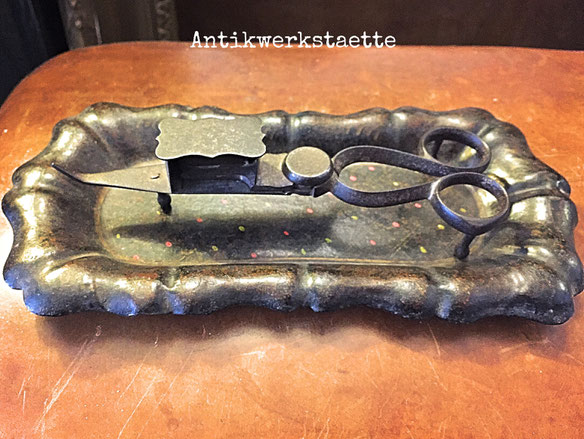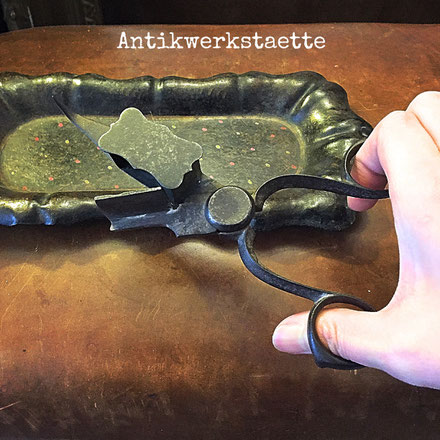 The next item is a scissors for for extinguishing burning candles.
It is with a tray.
This is called as a snuffer,
and there are two kinds of snuffer.
One is like a cap,
and another one is a scissors type like this item.
The scissors type candle snappers look cute,
but you can use this snuffer for limited candles.
You can not use it with deep places (such as aroma pots) because scissors do not enter,
It is not suitable for candles whose core does not go well.
However, the scissors type candle snappers,
There is a merit that you can clean the old core of the candle.
It is a recommended item for those who always want to use candles in a beautiful state. 
Milk can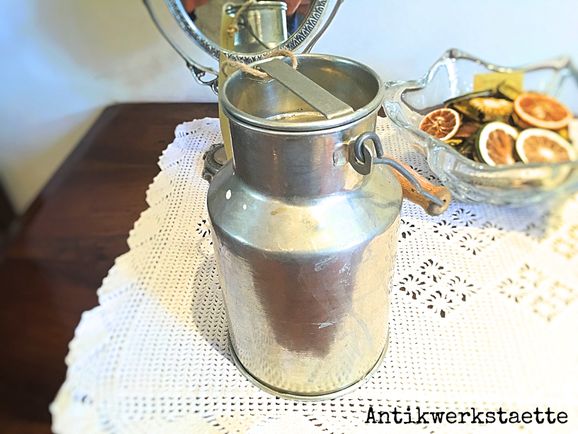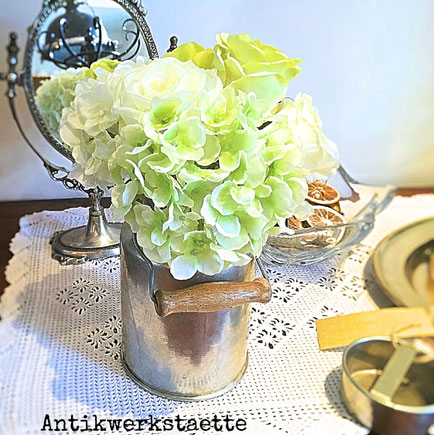 The following item is aluminum milk can.
Detailed age is unknown,
but it is a vintage item and pretty good shape.
About 50 years ago,
people were buying milk directly from farmers in Austria.
People needed a bottle to buy from farmers.
This milk can is that was used at that time.
The price is 15 euros.
Currently it is hard to find farmers that we can buy milk directly,
so I think that it is a little bit hard to use as a milk can,
but as a vase etc., it can be used as an interior.
Don't you think the photo above looks like a pretty flower shop decoration?
In addition, there are so many way to use it.
Why not try using it as a material of DIY?
Grater for kitchen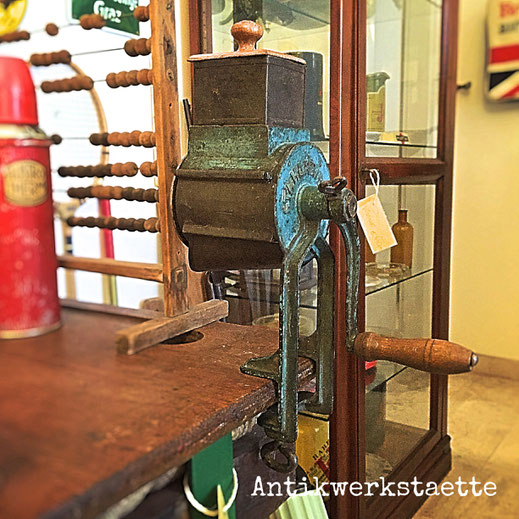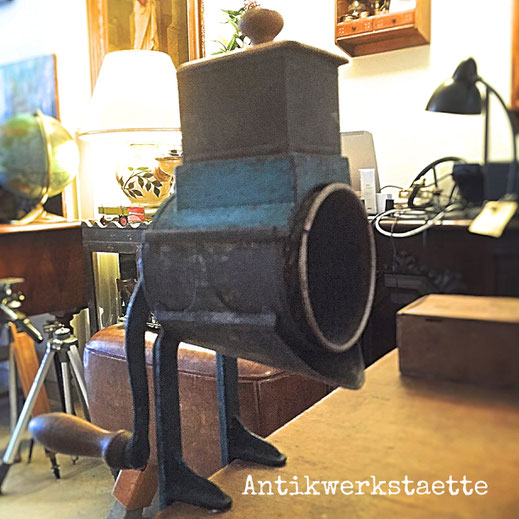 The next item is an antique grater for kitchen.
It is used when grating cheese etc.
It is a type fixed on a table,
and this type is called Mouli greater,
it is a rare style in modern times.
The name of Mouli comes from the name of a household goods manufacturer named Moulinex of France,
and it is a manufacturer that we can say the forerunner of food grinding machines.
Because it has rust and dirt,
we do not recommend to use it for food,
but as interior, perfectly fit with industrial style.
The price is 20 euros.
Antique bicycle light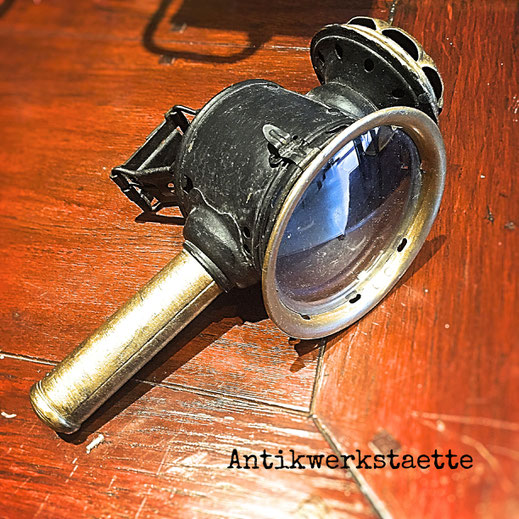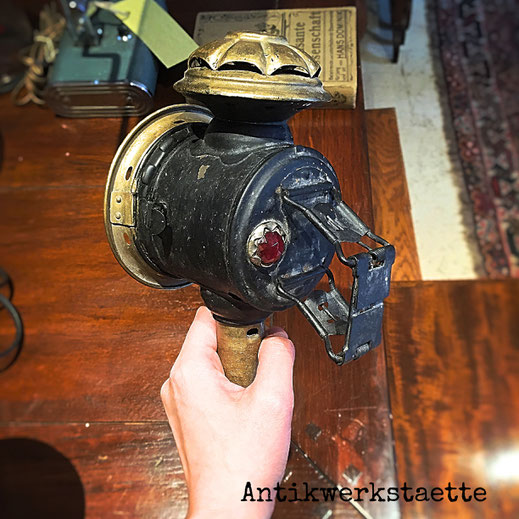 The last item is a light for bicycles.
When there was no light bulb,
this kind of lights using alcohol lamps or candles was used for bicycle lights.
Attach the back side metal part to the bicycle,
or insert a part like a handle into the part of bicycle.
This style light is pretty rare now.
It's pretty difficult to use it for bicycles,
but you can use as a substitute for a candle stand by fixing it to a wall,
or we recommend to use as it is as an interior.
A lot of rare antiques
This time we can glimpse of some old lives from those antiques.
Those are products that normally we sell in the flea markets,
but we are using them as shop display,
because it is also suitable for interior.
(Of course we also sell them.)
Unusual antique living goods,
As an interior or display,
Why do not you try to put them in your modern life.