Last blog of May, introducing something decorate for the walls
It is already the last day in May.
The temperature in Austria is getting higher everyday as summer!
Kind of like that.
(It has become over 30 degrees during the day.)
Because humidity is low and dry days have been ongoing,
I would like to go for drinking in a terrace after work,
But,
But...
The pollen is horrible in this season.
A lot of pollen which the particles are rough,
and they are actually visible.
I stay in the room because I cannot stop sneezing whole time.
It does not change from winter after all.
Excuse me, so many digression...
As a result of thinking the whole day about what to write for the topic of blog this time,
I decided to introduce products of the decoration on the wall.
Probably it was easy to take pictures.
I think that it is convenient to have pictures for decoration,
because they can easily change the impression when you use them for reorganization or something,
so I would like to introduce them at this time.
New items of May 31, 2017
As I mentioned above,
This time, I would like to introduce paintings and signboards mainly.
A total of 5 items,
From famous things to unnamed paintings,
I will introduce colorful art things.
By the way,
I, the man from the blog of Antikwerkstaette was in the art club when I was junior high and high school student.
I used to draw pictures.
Used to...
Heinrich Sperling Picture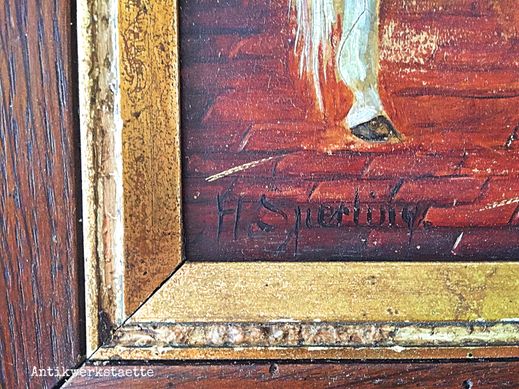 The first painting I introduce is the work of an artist from Berlin, Germany.
It is a painting by Heinrich Sparring,
paintings with horses and dogs is drawn.
Heinrich Sparring was an artist from the end of the 19th century to the beginning of the 20th century,
and animals were drawn in most of his works.
In particular, there are a lot of hunting dogs in his pictures,
and the hunting dogs he drawn are very soft and gentle.
This picture is an oil painting,
but it is drawn on a wooden board, not on a canvas.
Because of that, the color is unique compare to the usual paintings,
and overall it looks somewhat like reddish brown.
This reddish brown make the atmosphere of painting more warmly.
The wooden picture frame is also gold-colored and it is a beautiful impression.
The size is 42.5 cm x 34.5 cm and it is easy to decorate.
The price is 550 euro.
Small painting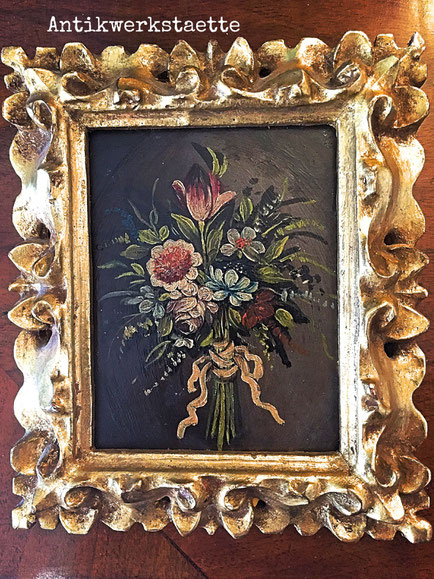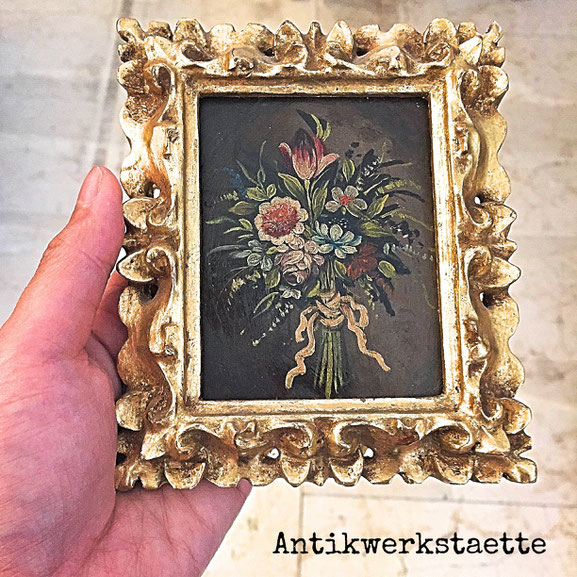 The next item is palm-sized painting.
Small but beautiful fine flower picture is drawn,
and the picture frame decoration is very gorgeous.
This painting is also an oil painting.
this size with this fineness,
I wonder how person can finish like this beautiful picture.
Unfortunately detailed information is unknown,
because the picture can not be removed from the flame,
and signature is not found on the picture.
The flame is made of wood,
and it is very beautiful with gorgeous sculpture and gold painting as you can see in the picture.
This painting is also drawn on a wooden board, not a canvas.
I did not know that there are so many paintings painted on the wooden board.
The size is 12.5 cm x 10.5 cm and it is really small.
This picture suits for filling the gaps between the walls,
or decorating a little space.
The price is 20 euros.
Lithograph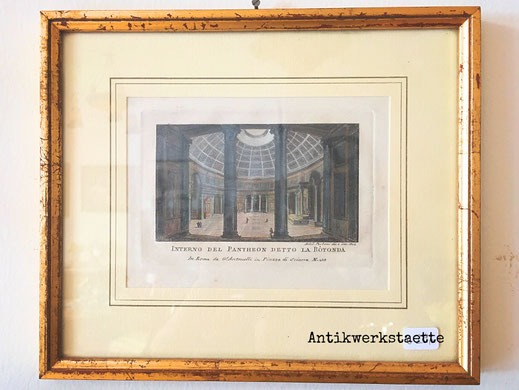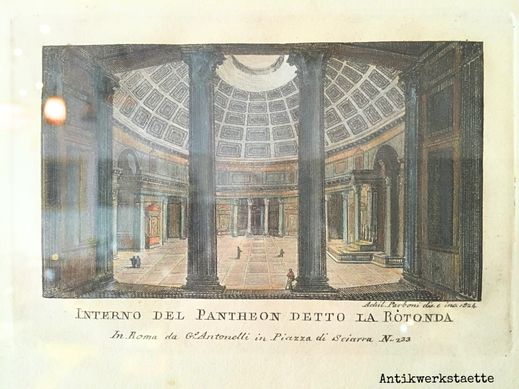 Next item is a lithograph of the Pantheon of Rome.
This picture is a lithograph,
so it is not really bright compared to oil paintings,
but as this simplicity matches any decoration,
it is recommended as the third and fourth ...paintings.
Personally I like this lithograph so much,
I think this antique looking atmosphere from this picture is so perfect for antique shops.
Especially because it is compatible with classical styles,
it is nice to decorate around the Victorian style showcase,
around the desk such as the Empire style and Louis-Philippe style,
or Biedermeier style living room.
The gold color flame is also very suitable for the atmosphere of Pantheon.
The size is 24 cm x 20 cm.
It is quite small. 
The price is reasonable.
It is 29 euros.
GRAWE Enamel signboard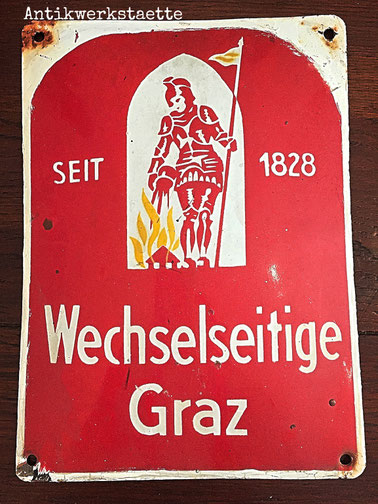 The following item is a metal sign of an Austrian insurance company.
It is a signboard around 1950,
and this is an eye-catching signboard with bright red color.
It is a famous insurance company especially in Eastern Europe,
which continues from 1828 to the present in Graz, Austria.
This signboard has a picture that the knight extinguish a fire,
and this picture suits perfectly an insurance company.
Although I described it as a metal signboard,
this is a signboard processed with enamel,
it is a more beautiful sign than a sign painted directly on iron plate etc.
The disadvantage of the enamel signboard is fragile when it is falling down,
but the gloss of the enamel is beautiful,
and there is an advantage that it is not easy to be scratched just putting it to the outside.
This signboard is a small size of 17 cm x 24 cm,
and also it is easy to handle because it weighs about 350 g.
The price is 50 euro.
Paper sign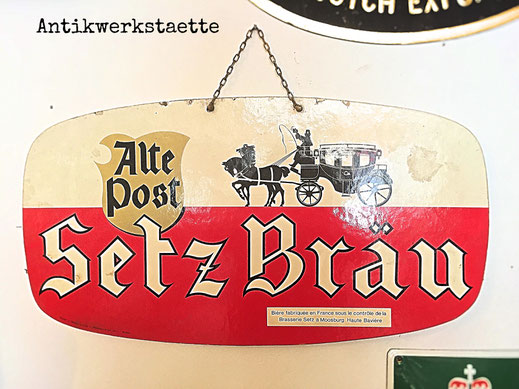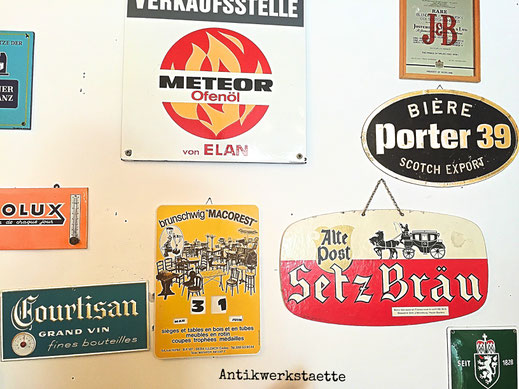 The last item I introduce is a sign of a German beer company.
Unlike the signboard of GRAWE I introduced earlier,
this is a signboard made of paper that dedicated to the interior decoration.
It is a strong signboard even though made of paper,
and it is cute with wall-hanging chains.
This signboard is a sign of the brewery called Setzbräu in Germany,
but unfortunately this company is not currently open.
However this brewery's history was long.
Since the start of brewing in 1597 it had been brewing beer for about 400 years until it completely closed its business in 1996.
In Germany, Austria or etc.,
there are several breweries that have been running for such hundreds of years.
So there are many kinds of breweries' signboards,
if they are older and older, the price will be higher and higher.
This signboard is a thing of the time they sold beer in France under the name of Setz Bräu Alte Post,
so it seems to be around the 1950s.
The size is 49 cm x 26.5 cm.
The price is 10 euros.
Unique arts
As a recent blog,
it was a unusual blog that one theme product introduction.
After all it was easier to write when the blog had the theme ...
Specially at the beginning and the ending part.
Many of this paintings and signboards are relatively easy to handle and easy to move,
so it is recommended for those who want to arrange the place frequently.
I will post them on the online shop immediately,
so please check our online shop if there was a product you liked!
Recently I am into Twitter... now...
I am tweeting as @antikwerk so I will be super happy if you follow me.
(I am tweeting basically in Japanese.)