Blog updating has decreased
It is a personal reason, so I will not make any special excuses,
In June,
I did not update my blog at all!
I am surprised by myself!
Until now, I have been updating this blog 4 days a week,
(English version including)
However, in summer, new products will not appear so often,
I decided to update this blog not so often.
I do not think I will update this blog once or twice a month,
so I would like to update this once a week.
I am kind of nervous to write a blog because it's been a while...
I am not sure I can explain well about new products.
I will try hard for the first time in a while,
so enjoy and good luck...!
New items of Jun 29, 2017
New products at this time,
they are no longer NEW products,
(they are in our shop already for one month.)
but I didn't introduce them yet, so I am going to introduce them as new products.
This time I am going to introduce products which arrived early in the beginning of the month.
Art Nouveau wardrobe,
Art Nouveau seat box,
Armchair,
Tornet dining chair,
J & J Kohn dining chair,
I would like to introduce the five products above.
Art Nouveau style products are likely to be the main blog.
Art Nouveau wardrobe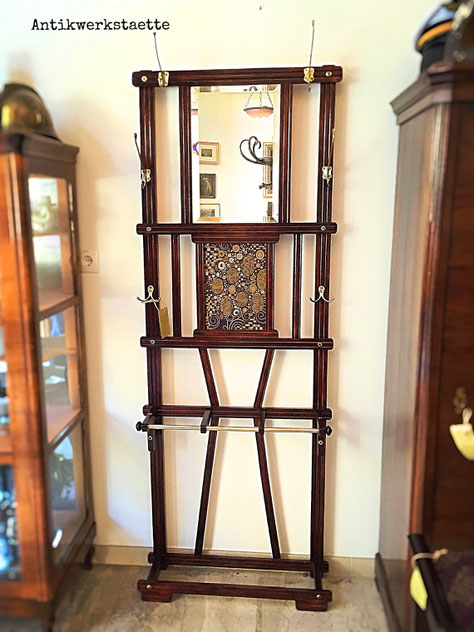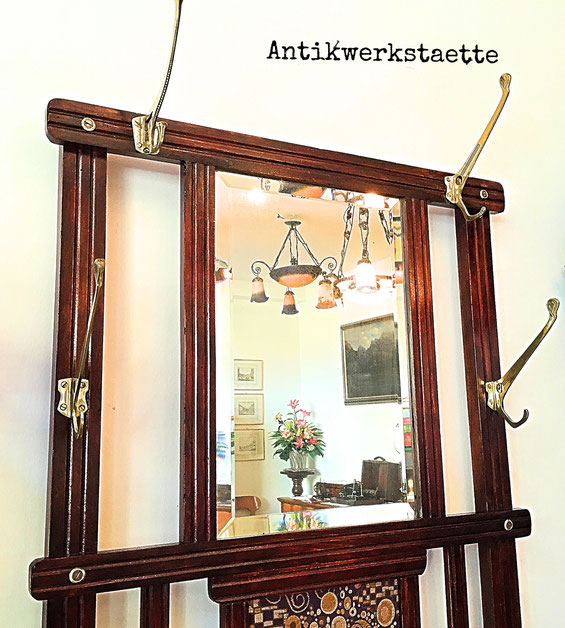 The first item I introduce is Art Nouveau wardrobe.
It is a wardrobe from France,
and this is a restored item with restored wooden parts and new fabric.
As a whole design, you can see many straight lines so it looks like Art Deco style,
but you can find the characteristics of Art Nouveau in the metal hanger parts.
It is hard to see in those pictures,
but those hangers have gentle curves and sculptured with a thin curve,
it is a nice hanger as Art Nouveau.
The height is about 182 cm.
So you can also hang men's long coats without any problem.
There is also a place for umbrellas and canes at the bottom of the wardrobe.
The bottom part is missing in this picture,
but now there is a metal saucer on the bottom,
so you can use it as an umbrella stand with no worry.
It has also a mirror,
so it is a very useful wardrobe before going out.
It will be helpful if there is one in the entrance.
Price is 390 euro so it's affordable price.
Art Nouveau seat box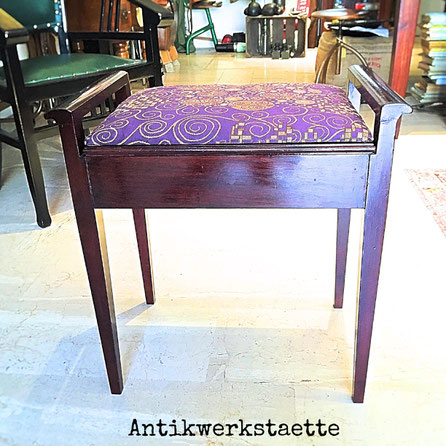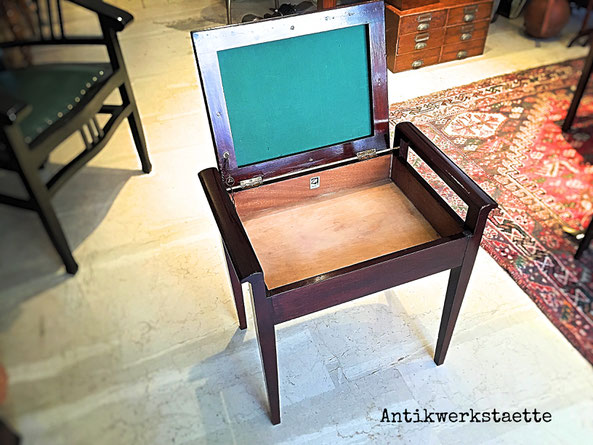 The next item is a seat box of Art Nouveau, just like the previous wardrobe.
This also has many straight designs,
so it looks like Art Deco style,
but it is an Art Nouveau style.
It is the late Art Nouveau style.
This seat box has also been repaired,
and the cloth on the seating surface uses the same fabric as the wardrobe I introduced earlier.
It is a product I recommend to enjoy with the wardrobe.
This seat box,
In European house, there is no special space for an entrance like Japan,
so it's kind of difficult to find a right place to put on and take off shoes.
(Recently, the custom of taking off shoes before enter houses is quite popular in many European houses.)
For that reason, seat boxes are quite useful for the European entrances.
Rather than using this seat box as an ordinary chair,
this chair is just for sitting down when you want to put on or take off shoes at the entrance.
The seating surface is shallower than the normal chair,
and it's not so comfortable,
but it will not get in the way even if it is placed in the entrance.
And also, when you open the seat, storage space will appear.
In this part it is possible to store shoes care products or accessories needed for going out.
The price is 190 euros.
Armchair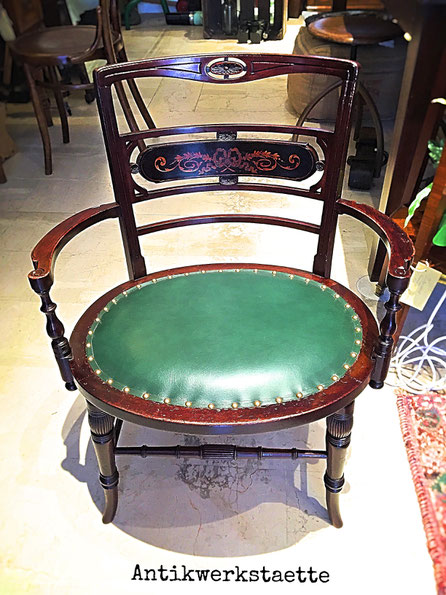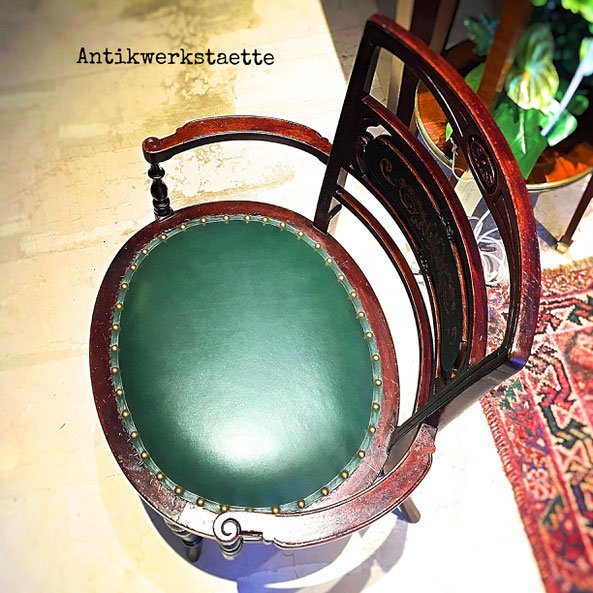 Next,
it is an introduction of the chair as well.
I will introduce the chairs to the end of this blog.
This item is Victorian armchair.
It seems quite antique appearance.
It has been restored.
The color of green leather is very beautiful because it has been reattached.
I saw a Victorian antique after a long absence.
I think Victorian antiques are quite loud.
(no offence)
About half of the current items in our shop are industrial style,
and about 30% is Art Nouveau,
remaining Art Deco, Bidermeier, others... and so on,
there are a lot of simple antiques,
so this chair can not be harmonized with them at all.
I guess Victorian antiques must be with Victorian antiques,
or with other classical style antiques.
Anyway,
This fine engraving up to the backrest, arm, legs,
round form,
Impression of the wood etc ...
I recommend it for those who like classical antiques.
Also, this armchair,
the legs are short so it is more lovely impression than the appearance of the picture.
(The length of the leg is 33 cm.)
It can also be used as a chair for children.
The price is 200 euros.
Tornet dining chair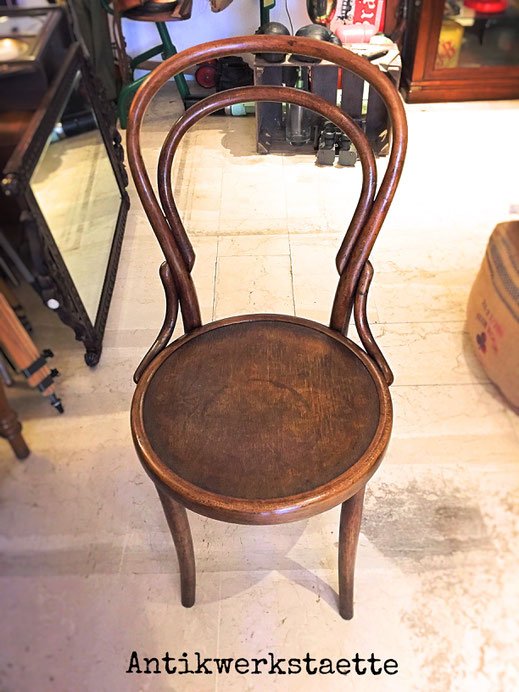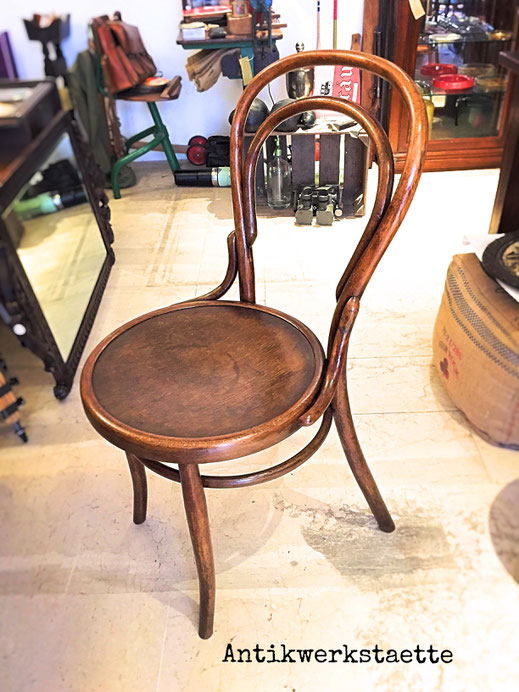 The next chair is a Tohnet dining chair.
Although I said it is a Tornet, this chair is actually unknown.
Probably it is better to say it as Bentwood dining chair ...
But it is the same style as Tohnet No. 14, isn't it?
Various designs are seen on the seating surface is the interesting part of Tohnet dining chairs,
Seating surface of this dining chair has a slightly Art Nouveau style pattern.
(It seems that it has been repaired many times, so you can only confirm the pattern a little ...)
The pattern of this seating surface shows the style of Art Nouveau.
The recent Tohnet furniture is very simple.
So with pattern like this chair, it is more likely Art Nouveau style.
Tohnet furniture is recently so popular.
I can find so many website call "Czech" or "German" Tohnet,
but originally it originated in Vienna.
(Tohnet is a German company now.)
I would like to say "Austrian" Tohnet.
This dining chair is 110 euro.
It is very sad that there is only one chair.
But you can use it as a chair for desk or somewhere else.
Because this simple chair suits every style!
J & J Kohn dining chair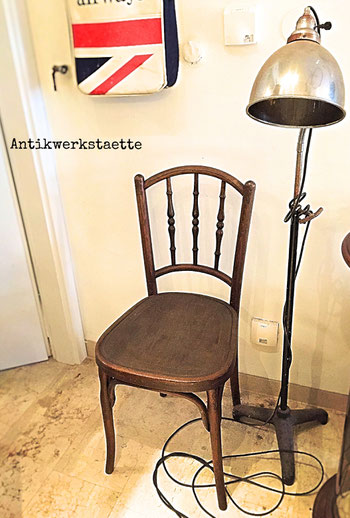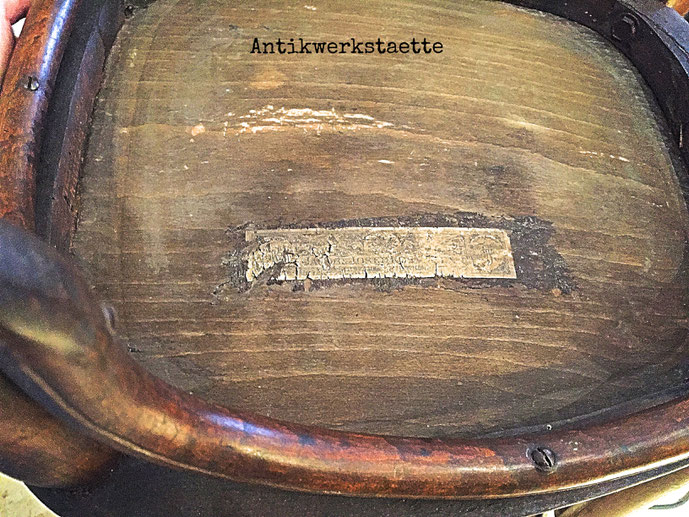 It is an introduction of the last chair.
This is J & J Kohn dining chair.
Since the stickers are attached here, the manufacturer is already known.
Speaking of Kohn,
it is a famous furniture manufacturer in Bentwood as well as Tohnet.
In the Art Nouveau period,
they also worked with Joseph Hoffmann etc... from the Vienna's workshop,
so they left a lot of beautiful Art Nouveau style furniture.
By the way ...
Kohn is also an Austrian company.
(Although it does not exist now ...)
Austria during the Art Nouveau period had a lot of power in design and art.
The restoration of this dining chair has not been completed.
So the price is unknown.
It is before restoration,
there is no gloss of wood.
So it looks more simple.
I noticed that this mat color wood makes it compatible with industrial style.
So dare to put next to an industrial style lamp.
Blogs after a long time holiday, it is so hard.
I accidentally said a real intention in the title.
It was so hard to write this blog in this time.
But if I write this product introduction in a blog,
my knowledge will increase so it is kind of my favorite job.
Especially as you examine the antiques,
interesting things like stories, unknown past, the price of the world etc.,
will become more and more apparent.
So, I hope I can update it in about a week later.
I use Twitter and Instagram as a public advertisement,
so if you check them you will know the timing of the blog update.
(You can also check from top page of this HP.)
There is no plans to put those products in this blog to the online shop.
However, please feel free to contact us by email when there are goods if you like.
(English, German and Japanese are available.)
You can also contact us via mail form from contact.
Let's hope that day will come again to update!