Industrial from France
This time I would like to introduce industrial-style products that came from France,
which we recently purchased.
Why did we bought a lot of industrial style products from France?
I have classic or fancy images of French antiques (at least I have those images) ...
Of course there are lots of classical antiques in France,
many of them are also quite good quality.
However, not only classical antiques,
as expected a country of art,
but also we can buy all kind of the interior popularized each era.
(If something is not available, it is probably a Victorian style?)
And also antiques and vintage products since the Art Deco period are trading at a very good price,
rather than classical antiques.
Of course, anything is expensive in big cities such as Paris,
Many affordable things can be found when going to purchase in the suburbs.
This time I will introduce a relatively inexpensive industrial style items that have come across borders from France.
New items of July 17, 2017
So I would like to introduce new items on July 17th from now.
As I mentioned above,
this time is only industrial style items!
What is industrial style?
If you thought so, please take a look at the pictures first.
If Industrial style is not in your taste,
please enjoy the interior from a different angle with a wide mind.
If you love industrial style,
Please just enjoy!
This time it is a total of 5 items of 2 kinds of document shelves and 3 kinds of signboards.
Metal document shelf 1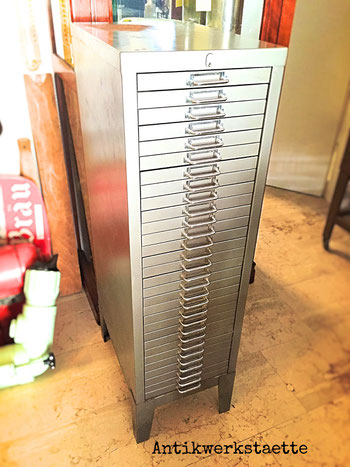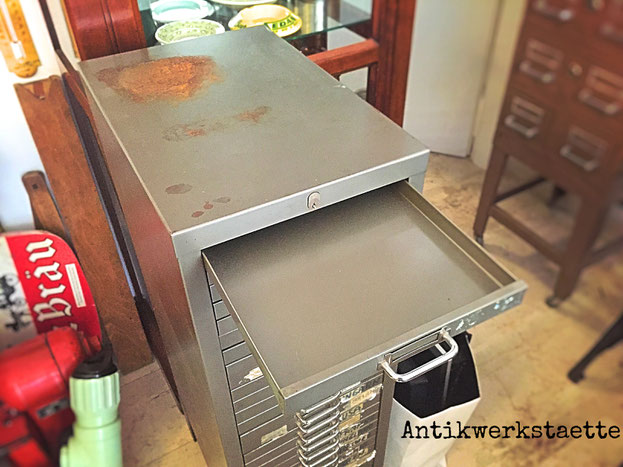 The first item is a metal shelf.
I wrote at the very first time, this blog is an introduction of the product that came from France!
But only this metal shelf came from Austria.
(We got it in the near place.)
I guess it is better if you can read this in the Industrial Style category than the French category.
(With a big heart)
Directions went wrong from the beginning...
Well, this metal document shelf,
it is what was used in the office.
However we don't know the details well about this maker.
As the key on the top of the shelf has a name "Zeiss Ikon",
so we know that only the key manufacturer is Zeiss Ikon in Germany.
(It is not the manufacturer of the camera.)
Since it is using a German key manufacturer,
the shelf is also probably made in Germany.
It is 98.5 cm high with 30 drawers.
Each drawer is very thin.
The capacity of the drawer about dozens of documents.
So it is unsuitable for storing daily necessities at home,
but it is suitable for using in offices and stores.
Especially recommended for installation in industrial style stores,
because fashionable and neat image will become stronger.
The price is 220 euros.
Metal document shelf 2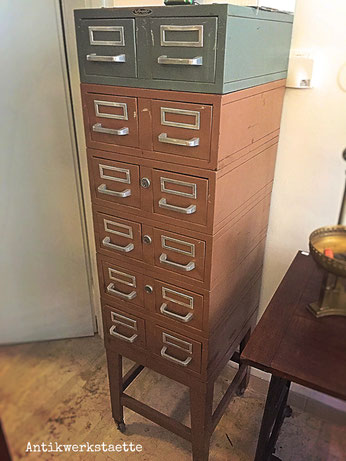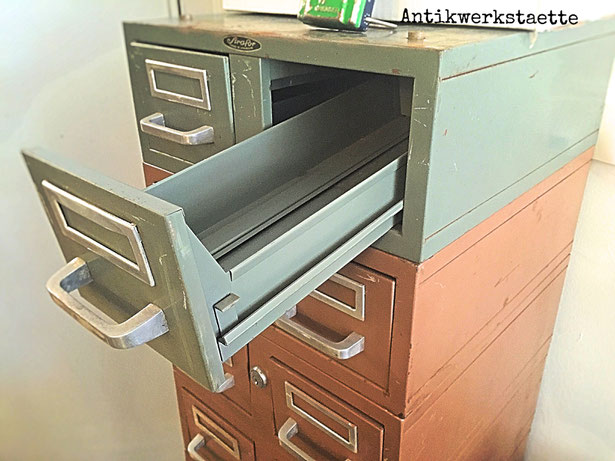 The next item is from France!
The next item is a metal shelf, too.
This colorful shelf as pretty as French.
This document shelf is made by French Strafor furniture maker,
which was used as a card case.
Unfortunately this company called Strafor does not exist,
but since about 1920 they had been producing and selling many metal furniture,
especially document shelves, post boxes, lockers, etc. like photographs.
It is a company that has made plenty of furniture that can be said to be a symbol of industrial style!
Strafor's metal furniture has its metal color as it is,
or there are many black and gray furniture.
So color usage like this product is a little unusual.
Only the uppermost drawer has moss green,
the lower five drawers and legs have all terracotta colors.
Each drawers are removable,
it is also possible to use it by itself or by changing the order.
The price is 550 euro.
Sign SHELL
I will introduce metal signboards from here.
The next item is a Shell sign.
As it is,
it is the signboard of the world's largest oil company SHELL.
There are many Shell petrol stations in Japan, too.
The Japanese Shell is a company called Showa Shell Oil.
The company called Shell,
(Here I am talking about the parent company Royal Dutch Shell.)
it is a company in the Netherlands and the United Kingdom based in the Netherlands now.
Because there are companies around the world,
it may be appropriate to call them an international company.
Well the company called Shell,
their establishment episode is very interesting.
Why is it called Shell (seashell) though it is an oil company?
Actually, Shell is a company that started from manufacturing and selling seashells.
A story about why he started seashells was also interesting.
The father of Shell's founder,
he was fascinated by the seashells on the Miura coast in Japan,
then he started his seashell business in the UK.
So this seashell logo strongly connects to Japan.
Looking at this mark based on these episodes,
somehow I am getting deep emotional to the Shell...
Well,
This French Shell signboard is made around the 1950s and 1960s,
the design of Shell is quite different now.
(The design of the old times is slightly more realistic.)
The price is 350 euro.
Sign RENAULT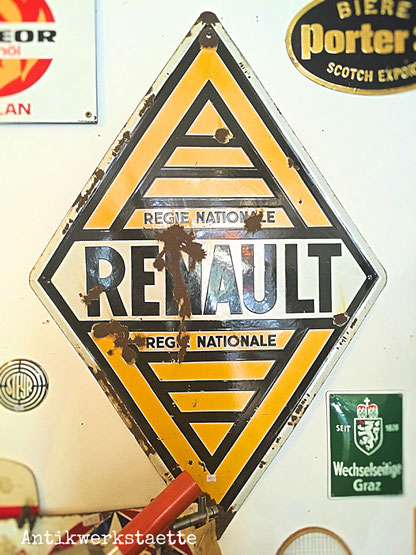 The next item is also a very famous company,
Renault's metal signboard.
Speaking of Renault,
it is a super famous French big car company,
now Nissan is also part of Renault.
Renault is famous for its diamond mark like this signboard,
but this diamond was adopted in 1925,
before that it was a normal round mark.
Why did it suddenly become a diamond shape?
There are various speculations,
but this article is the most interesting.
My navi news: Even people in Renault PR officials don't know!? Why the Renault logo is "diamond"
(Japanese only)
I thought that it is interesting,
that it is French-like reason that it was suitable for closing the hole in the body.
Even though it is not certain about the truth,
it is funny to think that the origins of this diamond that is familiar all over the world were such a unique reason.
Well, this signboard of this Renault,
it is made around the 1950's to 1960's,
which is flat compared to the current diamond design.
The retro impression is strong,
the size is about 115 x 77 cm,
it is a very impressive signboard.
The price is 380 euros.
Sign MARTINI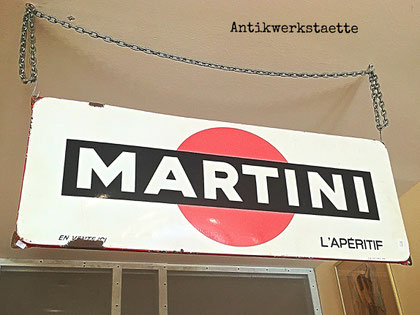 This is the last item introduction.
The last item is a sign of Martini that I have introduced before.
The product of Martini previously introduced was an ashtray,
but this time it is a metal signboard.
This Martini sign is also a product from France,
so some words are in French.
Martini's logo has not changed much since the 1920s,
but this signboard is made around the 1960s.
Although Martini's logo is simple,
it is a very vivid and eye-catching design,
giving a very gorgeous impression when used as an interior.
The size is as large as 97 x 38 cm,
so we hanged this under the ceiling in our shop.
The price is 400 euros.
Various interior of industrial style
This time I introduced a variety of industrial style interiors.
I think that industrial style is inorganic and strong male-like impression,
but I think that the product introduced this time was relatively cute and pop impression.
Because industrial style furniture is comparatively easy to handle,
I think that it is a pretty good style as an interior.
(If antique or designer furniture get scratched, they will have less worth.
However the industrial furniture is fine, because scratches give more taste.)
Especially in summer,
you do not have to be worried about temperature and humidity,
so I can say it is the perfect interior for the current season.
Please try them in your room in this hot summer season!