Introduction of vintage products
This time, I would like to introduce a lot of vintage items,
because we bought lots of them.
Recently, I have not introduced classical antiques on this blog.
We have more new style interiors such as industrial style than classical antiques recently.
Indeed, in recent years people are more into the simple design such as modern design than decorative antiques.
But our commodity choice is...
not coming from the classical antiques less popularity,
coming from ease of handling and owner's taste...
Rather than an antique shop,
our shop looks like more a vintage shop recently.
Our shop had a museum-like atmosphere before,
currently it become interior shop atmosphere.
I would like to introduce the interior more familiar to the living space this time! 
New items of July 20, 2017
So I will introduce new items of this time from now.
This time,
Loop table,
Eero Aarnio's chair,
Schneider's music box,
Mazda's metal signboard,
Reininghaus's metal signboard,
I would like to introduce the five items above.
Mauser Schlaufentisch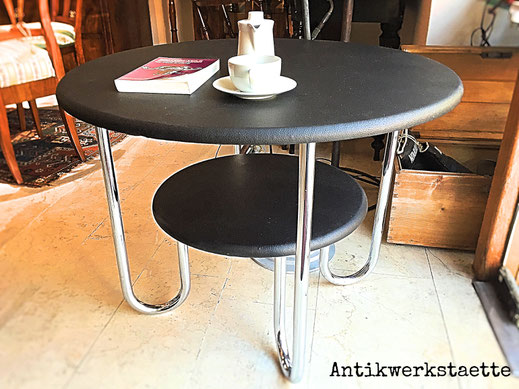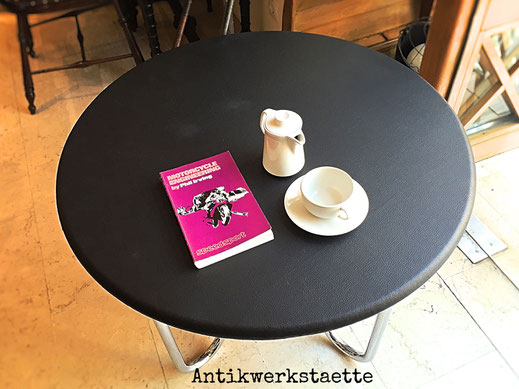 Because I can not find the better word,
the title remains German ...
It is a kind of the table called a loop table,
produced by the German manufacturer Mauser Werke.
(It is different from weapons company)
Mauser not familiar in Japan very much,
but it is quite famous in Germany,
many furniture left by Mauser is still loved by many people.
This loop table is made in around 1950's.
The face part of the table is made of leather,
the leg part which became the origin of the name loop table is made of metal and it is so impressive.
Although it is a little new vintage item,
it is a table that fits very well with Bauhaus style.
With this simplicity,
it is nice to use only this table as an interior, too.
The size is bigger with a maximum diameter of 79 cm.
It is not suitable as a dining table because the height is as low as 60.5 cm,
but it fits perfect as a table in the living room or a coffee table.
The price is 400 euros.
Eero Aarnio Chair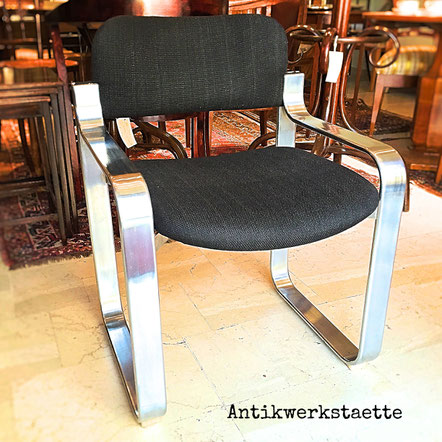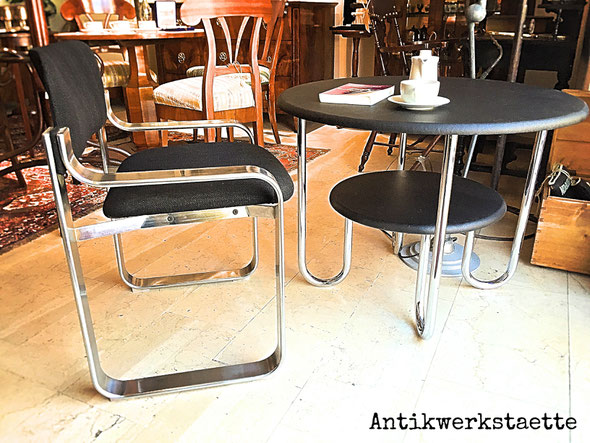 The next item is a chair that fits with the loop table introduced earlier.
This chair is designed by a Finnish designer named Eero Aarnio.
Speaking of Eero Aarnio,
he is a famous for the chair called Ball chair that designed like cutting a ball and made a chair.
(I'm sorry that I can not explain well... You can find pictures easily in the internet.)
This chair is called an executive chair,
and is a design of the late 1960's.
Unlike pop design like the ball chair,
this design is a simple Bauhaus style.
Even though this simple chair has presence,
you can put with other designer's interior,
or it stands out even if only this chair is used as an interior.
The price is 280 euros.
Schneider Musikschrank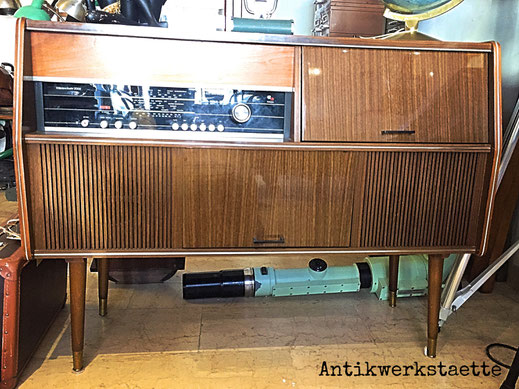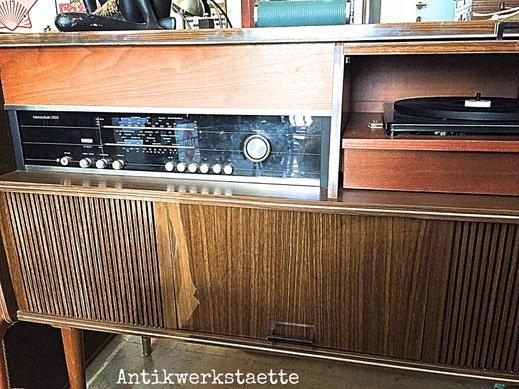 The next item is the musikschrank of Schneider Rundfunkwerke in Germany.
This company is now out of business.
This music box is the type of interexclusiv 2002,
it has a radio and a record player.
It is a unbelievably huge radio at the present time with a size of about 103 x 78 x 40 cm.
It is made in the around 1960's and 1970's.
Although it is big,
it seems to be active as an interior because it is a stylish design.
The lower part has speakers,
the speakers themselves are unfortunately not so big,
because the center part is a storage space.
It seems interesting to decorate a retro music box as an interior.
The price is 150 euro.
Mazda Sign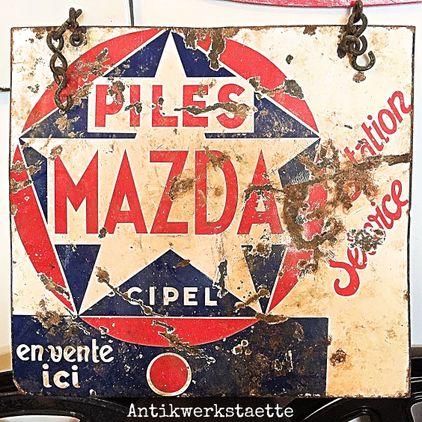 The next item is Mazda's metal signboard.
When I hear the "Mazda" word,
I automatically think Japanese cars,
but this Mazda is not a car Mazda.
This Mazda is an American bulb brand,
and the Mazda bulb made by American company called Shelby.
So it is not related to the Japanese cars at all.
This Mazda sign is made in France.
In French,
it is described as "Mazda battery sale place".
So it probably was an electric shop's signboard.
By the way the same paint is given on the back side.
It reminds me of old sign of National...
Well this signboard,
the size is 45 x 42 cm and it is easy to handle.
Price is also 60 euro and affordable price.
Please enjoy this pop design metal sign,
together with industrial style or rockabilly etc!
Reininghaus Bier Sign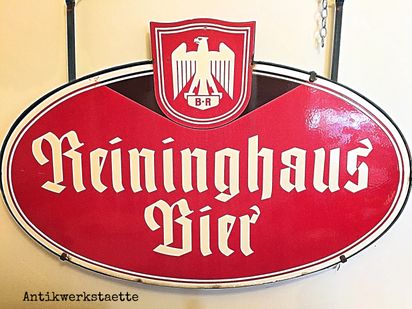 This is the last item introduction.
The last introduction is the Austrian beer brewery,
Reininghaus Bier's metal signboard.
The Reininghaus is a brewery in Graz, Austria,
and they started their business since 1855.
For an Austrian brewery it is somewhat new.
After the World War II,
they began brewing at the brewery of Puntigam,
not the brewery of the Reininghaus.
(This is also in Graz.) 
There are countless breweries in Austria,
so there are many beer that I have not seen yet.
Specially, if I go to the different state, I will find the different beer,
so I do not know even 10% of all Austrian beer...
Well,
the Austrian beer company's signs are relatively classic design.
(Especially font)
It must be useful as not-too- pop- style interior,
the modern design like metal signboard with classical design pictures.
The size is as large as 95 x 70 cm,
and it is a very eye-catching signboard with vivid red color.
(Be careful to carry it because it quite heavy!)
This blog archived over the 100 articles!
By the way ...
This blog finally archived more than 100 articles!
I took much longer time to write 100 articles than I expected.
(It took around eight months ...)
Anyway I am so happy about that.
From tomorrow I am going to aim to write 200 articles,
but probably it will take more time.
I hope to be able to introduce many good items and introduce lots of interesting articles in the future.
It is quite hard to think about what to write the blog,
so if you have anything you would like to know about antiques or vintages,
Please ask me.
I will do my best to write them!
Thank you very much for everything!
m(__)m