Lots of Mont Blanc
This time is a blog about Mont Blanc.
It is Mont Blanc, famous for pens.
We recently purchased a lot of Mont Blanc,
so that's why...
I had a Mont Blanc ballpoint pen before,
but I sold it without using because it was too expensive after all... 
The reason is,
My letters are not so beautiful and there are so many misspellings,
I don't need to use such a expensive pen.
truly.
Mont Blanc chooses who to use it.
Although Mont Blanc is a company like French or Swiss from its name,
it was originally a company in Hamburg, Germany.
(It is a Swiss company now.)
Started manufacturing the fountain pen in 1906,
In 1909 the name Mont Blanc was established,
In 1924 Meisterstuck started on sale.
Mont Blanc, which continues to manufacture writing instruments for more than 100 years,
has so many collectors due to its high quality and elegance,
and is characterized by many collection items.
This time, like an antique shop,
I would like to introduce a little old Mont Blanc writing instruments. 
Products introduction on 27 Jul 2017
Well, the items I introduce this time are Mont Blanc only as mentioned above.
Meisterstuck Classique Ballpoint Pen,
Meisterstuck No. 24 fountain pen,
Meisterstuck No.146 fountain pen,
Hemingway fountain pen,
I will introduce the four items above. 
Mont Blanc Meisterstück Classique Ballpoint Pen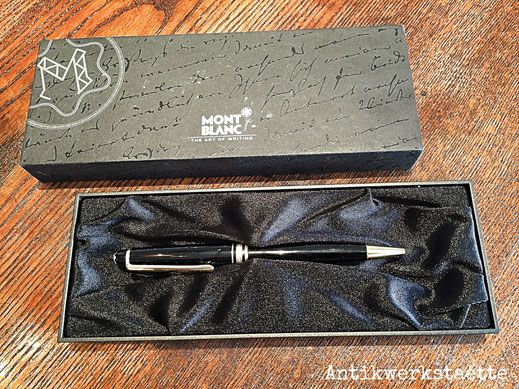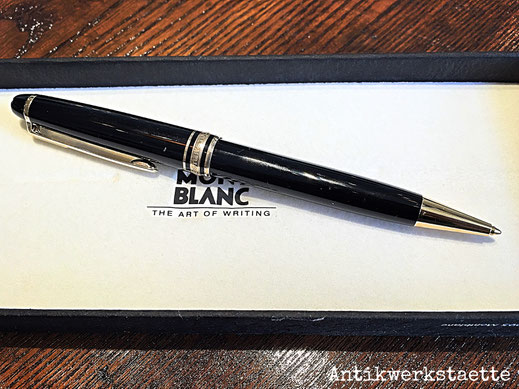 First, I will introduce the Mont Blanc ballpoint pen.
This ballpoint pen is the most basic size called Meisterstuck classique.
This Meisterstuck classique ballpoint pen is still manufacturing and selling.
There are various colors and sizes in Meisterstück,
but here is one of the most basic size called classique size,
and the body color is black,
and also the metal part is coated with gold.
This is a so pretty ballpoint pen.
It is an extended ballpoint pen and outstanding ease of use,
the weight is about 20 g and this weight is just right for writing and this is also attractive.
I used to have something like this before,
but it seems easier to use second hand than new.
Used ballpoint pen already has familiar feeling to hand,
so it is smooth and easy to write,
and it has a unique taste not new.
It is also wonderful to keep using from new to old,
and make it own ballpoint pen.
Basic Mont Blanc ballpoint pen,
there is no doubt that it will be useful for everyday use. 
Mont Blanc Meisterstück Pen No.24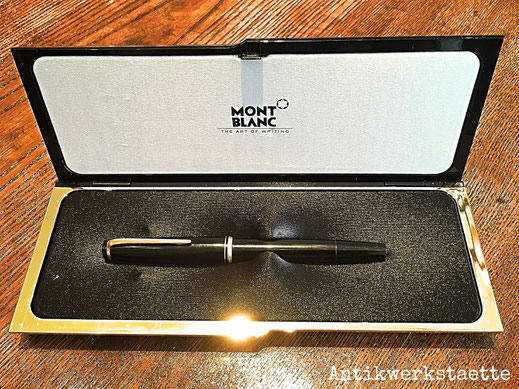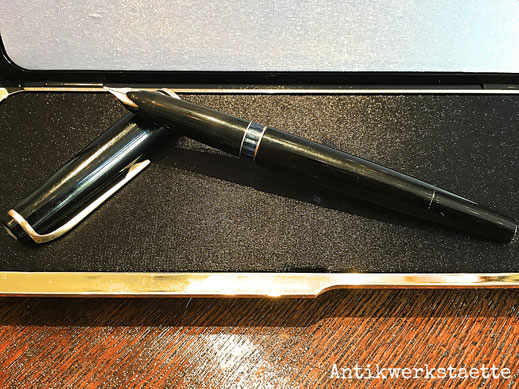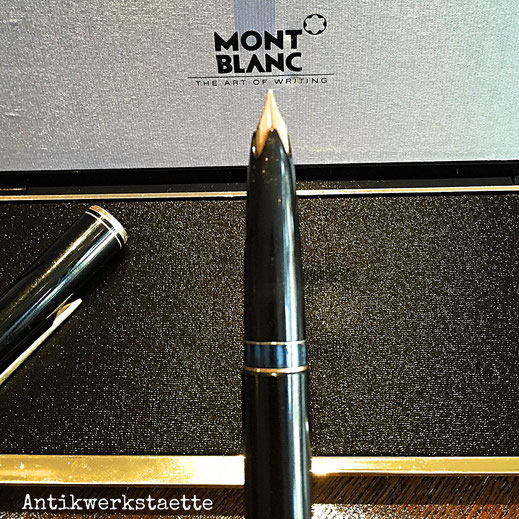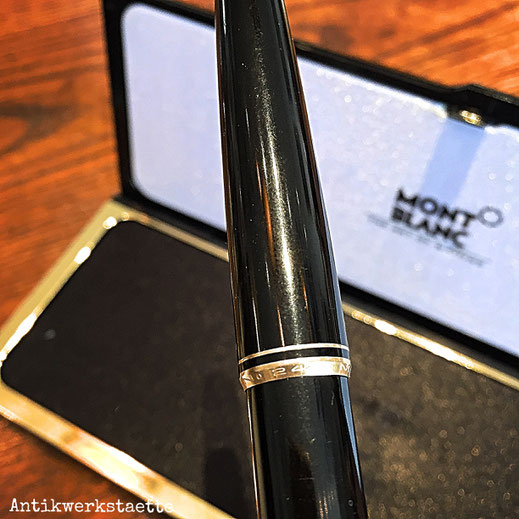 The next item is Mont Blanc Meisterstuck fountain pen, No.24.
This No.24 is a series that is not currently being produced,
one of the types called "two-digit series" which was started to be manufactured in the 1960s and spread.
The two-digit series is a series which has two-digit product number as its name suggests.
Currently two-digit number products can only be acquired in second hand.
Well here is a No.24 fountain pen,
it is the most common item in the two digit series.
There are various number in the two-digit series,
like 12, 14, 32, 74, 82 etc ...
10 series and over 70 series are luxury lines,
and bargain version of 30 series,
and 20 series are called normal items.
This No.24 has a 14K gold pen nib.
The luxury lines has 18K gold.
So those differences make also the prices differences.
Even though No.24 is a normal item, Mont Blanc,
people can write letters smoothly with this pen.
The design that this unique two-digit series pen tip is covered with resin is fashionable retro like the 1960's.
For those who love the fountain pens,
I definitely recommend it for everyday use.
Mont Blanc Meisterstück Le Grand Pen No.146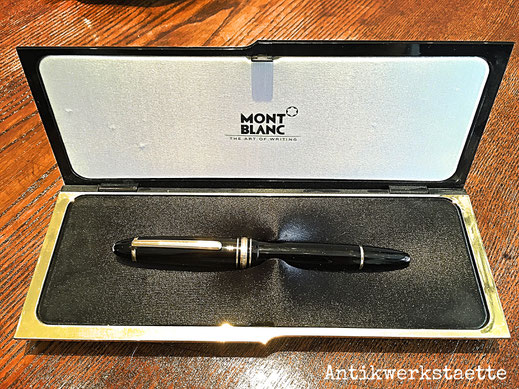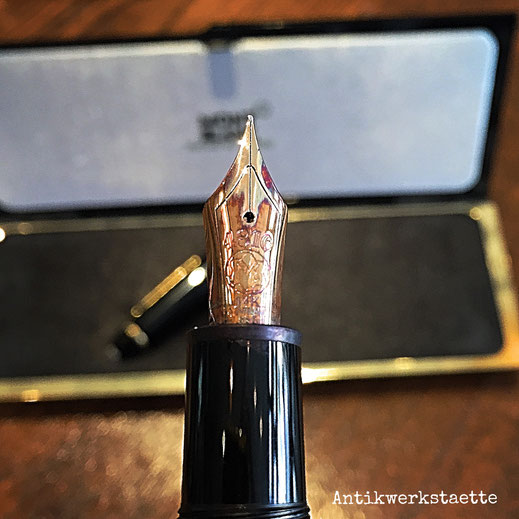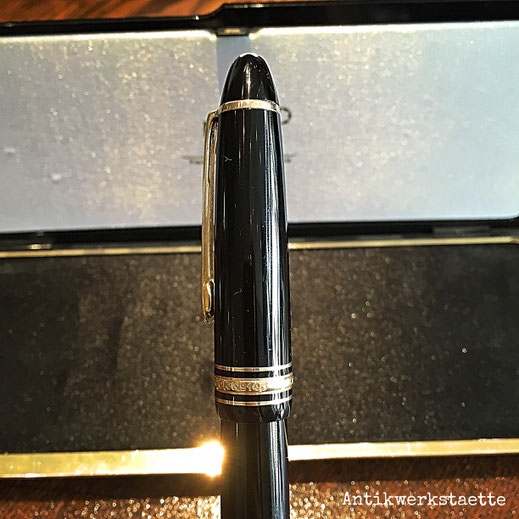 The next item is Mont Blanc Meisterstuck fountain pen, No.146.
This No.146 fountain pen is different from the current one,
(the color of the pen tip is different)
It is still a series that is currently manufactured and sold by Mont Blanc.
This Meisterstuck is the second largest fountain pen in Mont Blanc called Le Grand.
Even if I say it's big,
the difference between this Le Grand and the third classique size,
there are just a few millimeters difference.
This is the work Mont Blanc can do that they change the series just a few millimeter difference.
This Meisterstuck No.146,
the black body and gold parts are very mature impression.
If it is not a limited item,
there are also parts such as platinum and red gold.
It is a very chic fountain pen.
I compared it with No.24 introduced earlier,
but No.146 was a little bigger than No.24.
Grip has a solid width,
so I think that you can enjoy a stable writing comfort.
I recommend to use it as a special pen at a special time,
it is a perfect fountain pen for such a special occasion.
Mont Blanc Hemingway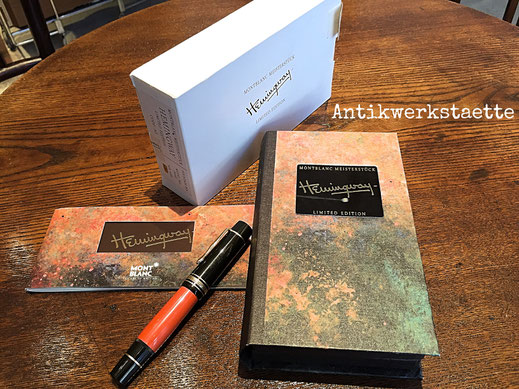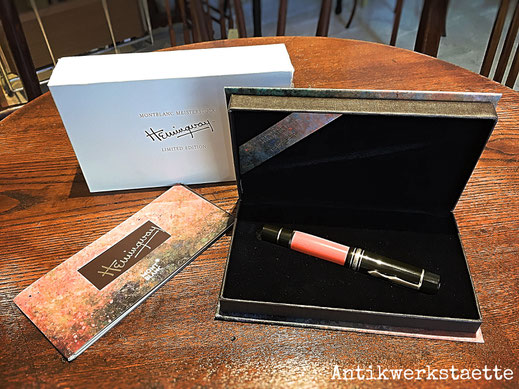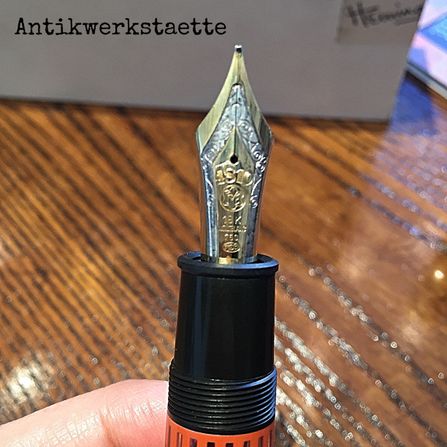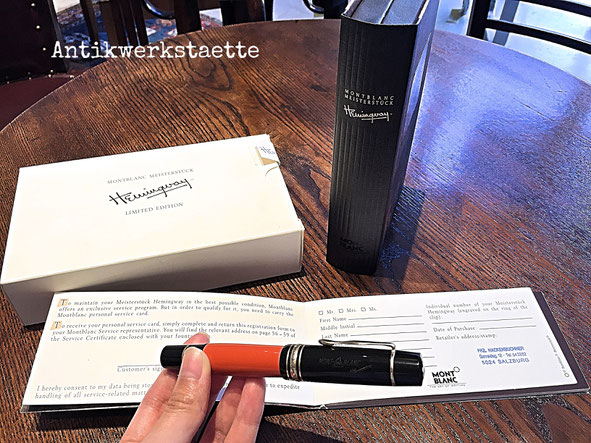 It is the last product introduction.
The last is Mont Blanc's first series of writers edition, Hemingway.
It is not just Hemingway in the writers edition.
Currently writing instruments that famous authors such as Agatha Christie, Shakespeare, Dostoevsky etc...
are sold in limited quantities.
(This year's writers edition is Saint Exupéry of the Little Prince.)
Wonderful things about these writers editions are those where designs are given according to the image of each author.
This Hemingway is the first writers edition,
so there is a part that somewhat lacks decorativeness compared to other writers,
but this quiet beauty is also like Hemingway.
(☆ mark is given to the pen tip of this year's Saint-Exupéry !!!)
Well this Hemingway has quite different shape from the classic or Le Grand and so on.
The pen which became the basis of this Hemingway is the model No. 139 from 1930's.
It uses a model of a long ago.
This No.139, the body is quite fat.
The pen tip is 18K gold which is also quite large.
The Hemingway fountain pen,
probably likes or hates split clearly.
(I could not use well it because my hands are small ..)
Perhaps it is perfect for enjoying as a collection.
Or it is wonderful to use it as a special pen for a special day.
Mont Blanc is deep
This time I introduced 4 Mont Blanc pens.
Clearly, Mont Blanc's writing instruments were so deep like watches such as Rolex or Omega ...!
If I check one thing, I need to check 2 or 3 things...
Especially fountain pens seem to need a lot of knowledge,
and for me who only used super cheap fountain pen and painting pen,
there were lots of things to learn about the Mont Blanc feature this time.
I thought Mont Blanc was a global brand of writing instruments.
However apparently it seems that it is not the main brand of writing instrument in recent years.
(Watches and leather goods seem to be the main products.)
I'm pretty shocked by this situation,
and I hope that someday again as a top of the world writing instrument Mont Blanc will be back.
I think that I want to write with a special pen when writing letters,
because it is such an era just using PCs or smartphones to write mails and documents.
By the way ...
The product of this time, I did not post any price.
We are selling them, but we can not decide the selling price.
Please negotiate if there are goods you want to buy.