First products introduction in August is classical antiques
It is finally in August.
Time flies.
It is so hot in Austria in August.
It is not humid, but it is often hotter than I imagined because the temperature often exceeds 35 degrees.
Basically there is no AC in Austrian residence,
so even if it was a few hot summer days it is painful.
Well, this time in the summer like this hot,
the shop has lots of classical antiques.
Classics have no impression like midsummer,
but I didn't introduce classical antiques so I would like to do it a lot.
Actually, the antique furniture made of wood is not very good at humidity, extreme drying, and midsummer sun.
The wood is the same as the human skin.
So if wood is in the tough weather place, it will get mold or break.
(In the winter, when it dries it sounds sluggish, it is breaking.)
I am a indoor person in summer,
so I enjoy relaxing in a room and watching antiques under an AC.
So if you are the same person like I am,
how about enjoying watching antiques in your room in this summer?
Products introduction on 3 Aug 2017
As I said earlier,
This time, I would like to introduce only classical antiques.
This time,
Art Nouveau style showcase,
Louis Phillipe style step,
Biedermeier style chest,
Biedermeier style shelf,
Art Nouveau style pendant light,
I am going to introduce 5 antiques.
Please enjoy luxurious classical antiques.
Art Nouveau Showcase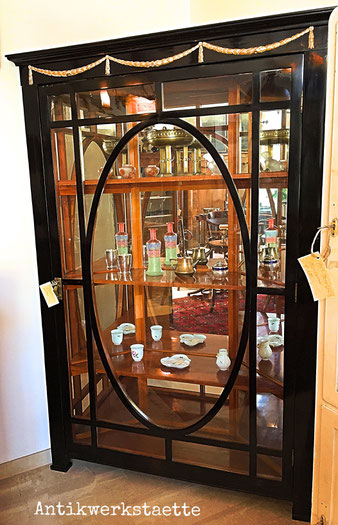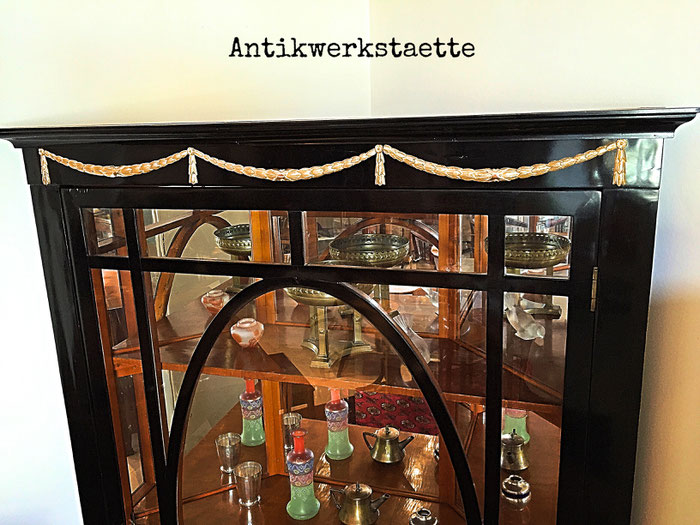 The product I introduce first,
is an Art Nouveau style showcase.
This showcase is...
slightly different from ordinary showcases and shelves.
It is a showcase to put in the corner of the room.
Because it is a showcase for a corner,
it is not a square prism shape, it is the shape of a triangular prism.
The door has the wooden frame and glass from the Art Nouveau time,
The inside has mirrors and it is a very luxury showcase.
The surface wood has been painted in the black colored shellac,
glossy luster similar to lacquer upgrades the gorgeousness.
The top of this showcase has a gold-colored decoration.
This decoration is often seen in Art Nouveau in Austria,
(Although it is Jugendstell rather than Art Nouveau in Austria.)
This design has rather than French like Art Nouveau style,
it is a little bit more close to the Art Deco style. 
Even if you see the Secession Building the representative architecture of Art Nouveau in Vienna,
it has natural motifs, skillful curve design is given,
but overall it is Art Nouveau of Austria that is designed with a thin straight lines.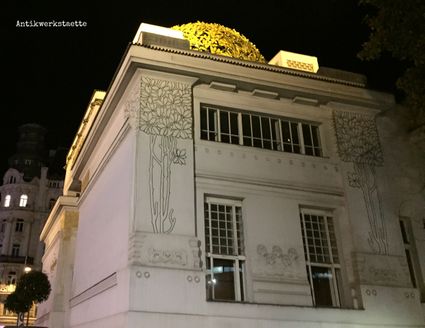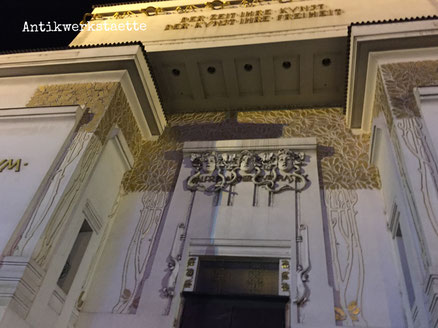 The above pictures are the Secession Building in Vienna.
Sorry for this dim pictures.
Like this building,
Austrian Art Nouveau has the straight line and the curved motif are delicately used.
A showcase has a lot of those atmosphere,
this is an attractive furniture for Art Nouveau lovers.
The height is about 180 cm.
Quite eye-catching furniture. 
The price is 4,700euro.
Louis Philipe step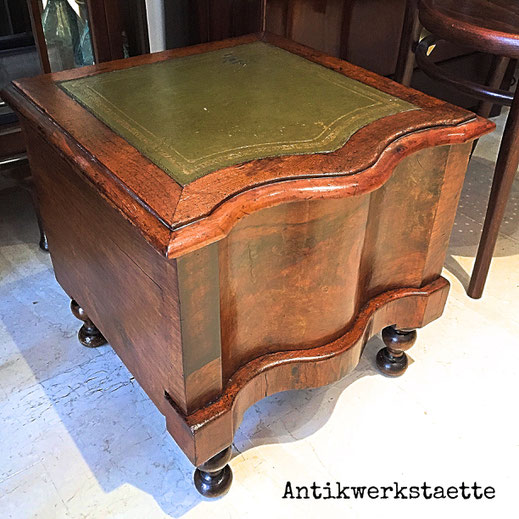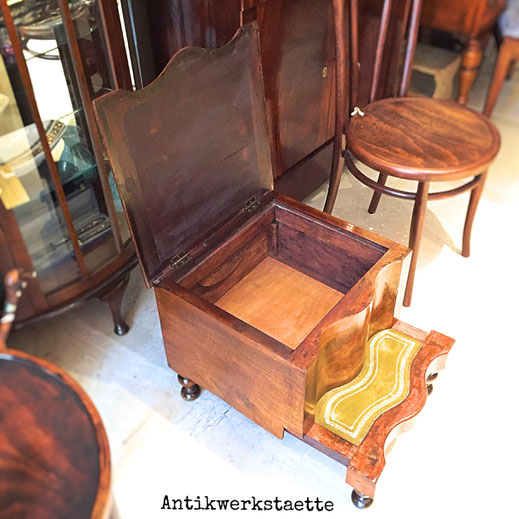 The next item is a Louis Philippe style step/ seat box.
This step was used in a library.
The design of classicism is cute,
and it is a waste if you use it as a step.
Speaking of Louis Philippe,
it's a French style, but this step is not from France.
It seems to have produced the French Louis Philippe style in Austria.
It is really like Louis Philippe style,
there are no too much unnecessary decoration,
but this furniture has beautiful wood coloring.
Like the 2nd photo,
you can use it as a step ladder when you pull out the feet,
and you can store something at the top,
so it can be used as a stool at the entrance.
This furniture, which is lovely and has many ways for use,
it is very convenient and gorgeous when there is one at home.
The price is 130 euro.
Biedermeier chest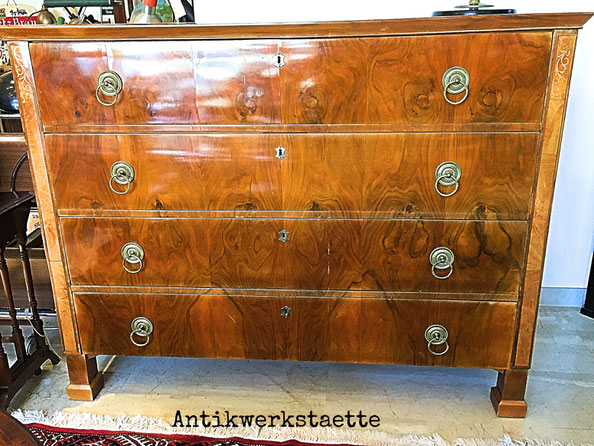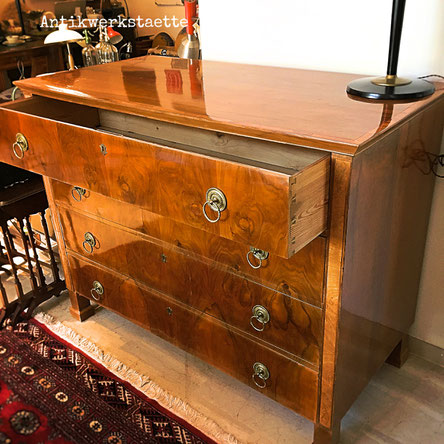 The next item is a Biedermeier style chest.
Biedermeier style large furniture like this chest is very popular.
This kind of chests also handled many times at our shop,
and those had been loved by many customers so far.
What is characteristic of Biedermeier style,
is nothing more than simplicity and pretty wood.
This chest is made of cherry wood,
the surface is mirror like.
that is finished by shelac polishing.
This chest that was produced around 1830,
the cherry wood which passed the time of nearly 200 years has getting calm color,
beautiful eye-catching furniture has somewhat a calm impression.
Also, it is a Biedermeier style,
as you can see the classic elements as you look at the detail,
but overall, it is very simple,
so it is very compatible with modern furniture.
This is a Biedermeier style antique,
that can be adapted to the current interior without changing to the new interior.
The size is as large as 130 x 102 x 65 cm.
The price is 950 euro.
Biedermeier shelf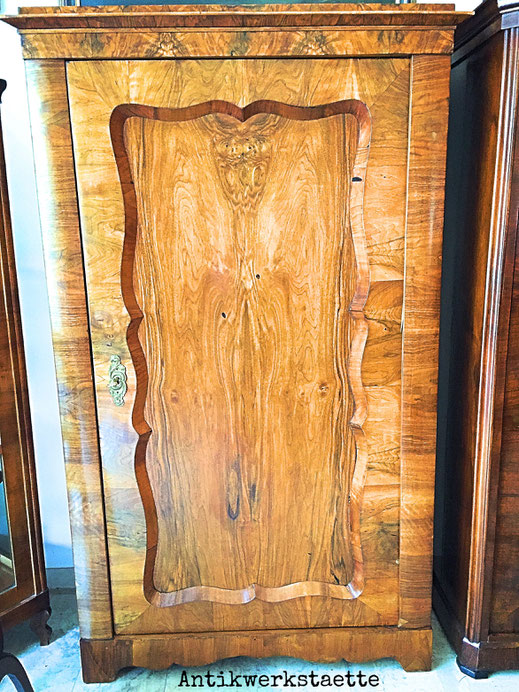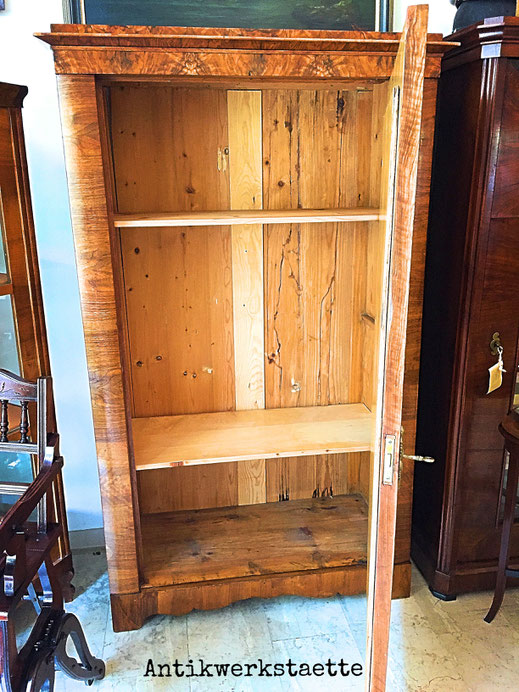 The next item is also Biedermeier style.
This is a Biedermeier style shelf.
Up to now, we had some Biedermeier style shelves of this type,
the doors have glass and they have been used as a cupboard or showcase,
but this time the shelf made of full wood.
You can use it as a shelf for clothes or documents taking advantage of invisible,
and you may be able to use it as a wardrobe instead of using a shelf.
The wood used in this shelf is walnut.
Compared to the chest of cherry woods introduced earlier,
the soft color and eye-catching grain are impressive.
This is also shellac polished,
so it is shiny.
Since it is a Biedermeier style,
there are no small decorations,
but beautiful designs are characteristic,
like the curve of the door part and the flow of the wood grain and the feet part.
I think this has more classical impression than the chest before.
The height of this shelf is about 170 cm,
it is good size not too low and not too high.
The price is 450 euro.
Art Nouveau pendant light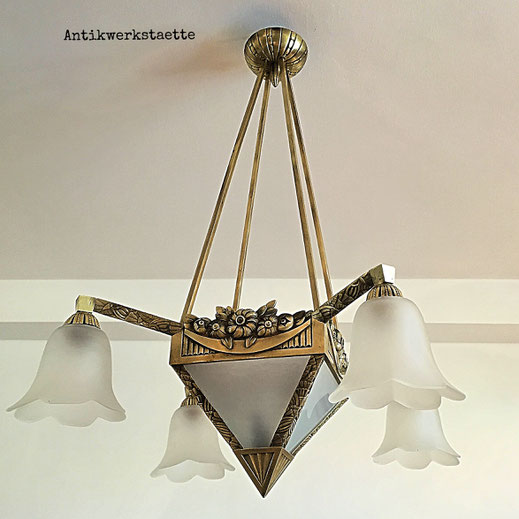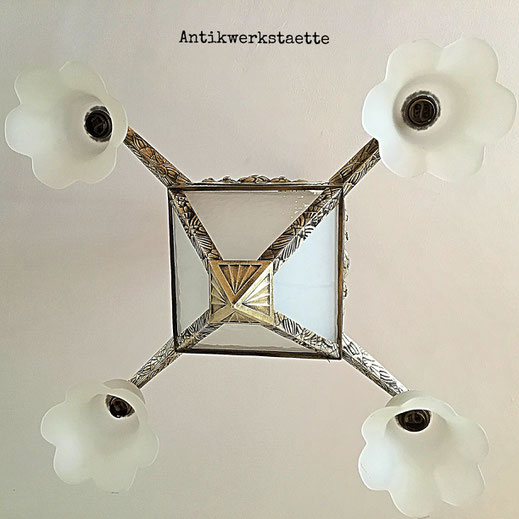 The last item is an Art Nouveau style pendant light.
This pendant light is made in France,
so it is genuinely Art Nouveau.
However, it has too much straight line design for French Art Nouveau.
It is probably a late Art Nouveau style.
Lampshade made of frosted glass is very beautiful,
it is very pretty impression with gold color metal frame.
It is a light that uses 5 bulbs,
so it is very bright when lit,
it is the perfect pendant light for living room or studying room.
With this coloring any color of walls and ceilings will match,
but with white color,
this light looks the most beautiful.
Decorate this light on a white wall,
and arrange the antique furniture decorated with gold,
which makes it an absolutely gorgeous and beautiful interior.
(It is beautiful not only furniture but paintings with golden frames.)
The price is 390 euro.
Classic antiques are beautiful
I only introduced classical antiques in this time.
Classical antiques are difficult to handle,
but there are lots of beautiful designs and give us a very luxurious impression even if there is only one in the room.
The antiques I introduced this time are very popular items in Austria.
Compared to vintage products,
the price is a little bit higher and need more care.
But if you are looking for furniture for a lifetime thing,
I think that the antiques are still the best.
Furniture beyond the time of hundreds of years can be used usually,
and there are also enjoyment for viewing etc..
We can enjoy in various ways.
In summer,
it might be nice to spend relaxing under the AC and surrounded by such luxurious furniture.