A variety of lamps are available
This blog is featured lamps.
From classical design to industrial style,
I'd like to introduce the various lamps in our shop.
There may be many people who think that they want to arrange new interior for September,
at the turning point of summer vacation.
I recommend lamps for those who think about that.
Lamps are convenient interiors that make it easy to change the atmosphere of the room.
Purchasing large furniture is a bit difficult,
but want to change the atmosphere of your room a bit...
I'd like to introduce some of the perfect lamps for those people.
From a gorgeous lamp to a no-brand easy lamp,
we have a variety of unique lamps.
I would like to introduce the charm of the lamp together.
Products introduction on 10 Aug 2017
As we mentioned earlier,
I will introduce only lamps.
I am introducing products this time...
Mazda lamp,
Art Deco lamp,
Heron lamp,
5 industrial-style lamps,
That's a total of 8 lamps.
Mazda lamp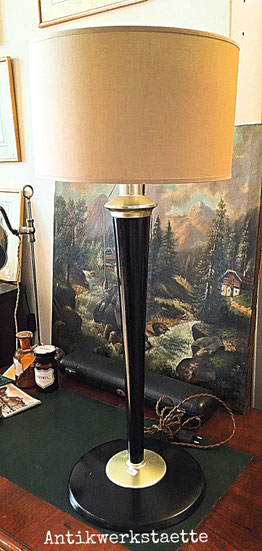 The first item I introduce is a stand light called Mazda Lamp.
Mazda is,
of course,
different from the car manufacturer Mazda.
The reason why this lamp is called Mazda is the manufacturer name of this lamp.
Although it becomes confusing,
this Mazda is French company Mazda,
it is neither a Japanese car manufacturer nor an American light bulb brand.
This French Mazda lamp here is famous as the lamp in the Art Deco period.
The most famous Art Deco Mazda lamp has been introduced in the blog before.
Previously I introduced the Mazda lamp,
that the lamp shade part is made of milky glass.
This lamp shade is made of cloth,
a slightly different impression from widely known Mazda lamp.
The height is about 72 cm and it is a high lamp.
Although it is short as a stand light,
put it on the side table or put on a shelf etc.,
it can be used as a substitute for the stand light.
In addition,
it can be used as a desk lamp by placing it on a large desk or table.
The price is 180 euro.
Art Deco lamp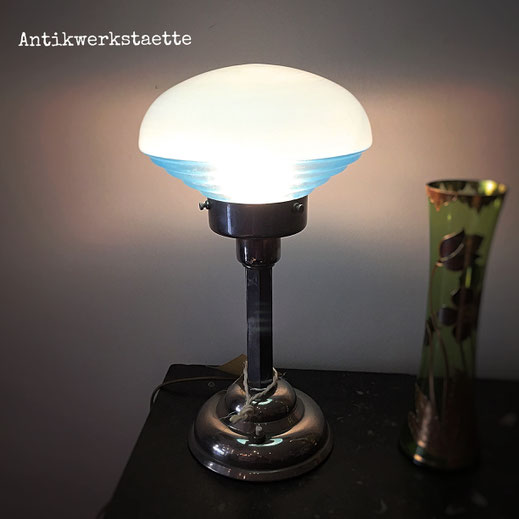 The next item is an Art Deco lamp, too.
This lamp is also made in France,.
it is a beautiful lamp with silver colored metal part and blue glass.
Although this beauty cannot show well in the picture,
when you light it up,
light blue glass shines beautifully,
and the top milky glass is gently illuminated and it is very beautiful.
Unfortunately the name of the manufacturer is unknown,
but the design of this lamp has straight and symmetry like typical Art Deco,
and the rounded and lovely design is a lamp that can become an accent of various rooms.
The height is about 35 cm and is small.
Because it is small, it fits anywhere.
The price is 280 euros.
Isao Hosoe Heron lamp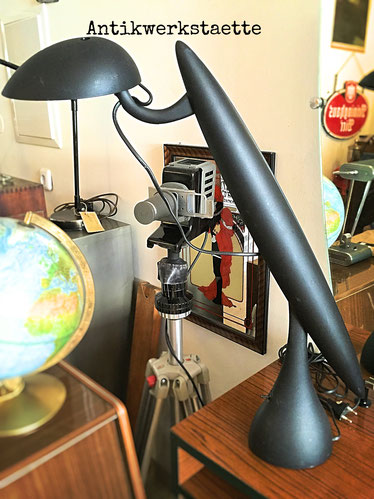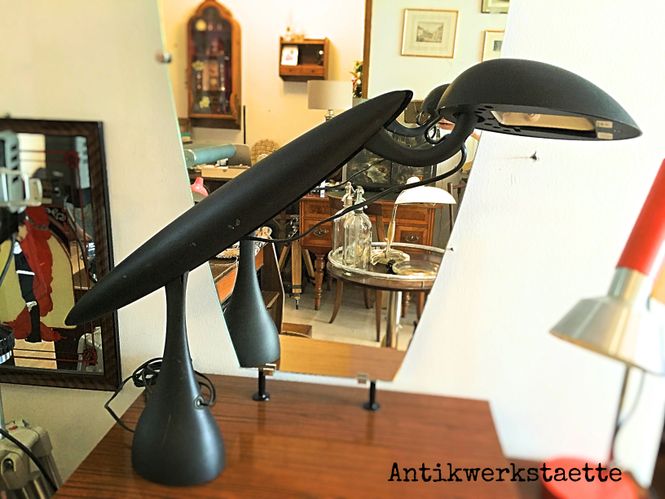 The next product is Heron lamp designed by a Japanese designer.
This lamp called Heron,
it is a lamp with a bird motif as its name.
This Heron lamp was sold by a Norwegian company named Luxo in the 1990s.
The designer is Mr. Isao Hosoe,
who is a designer who was mainly active in Europe, especially in Italy.
Mr. Isao Hosoe's designs are pop.
In addition to this Heron lamp, the snake lamp is also famous.
This Heron lamp is black,
but many works of Mr. Hosoe are very colorful,
and you will get power from his design just by watching it.
Well,
although this Heron lamp here,
the body is made of plastic,
and in this size it is relatively light.
(The maximum height is 65 cm.)
It is interesting design that the body extends like a genuine bird and the lighting part of the head can move.
The price is 220 euros.
5 industrial-style lamps
Well, I will introduce industrial style lamps from here.
The industrial style lamps introduced this time are only no-brand products,
so I will introduce them almost picture only.
Even though they are not designer lamps,
Beautiful color,
simple and user-friendly design,
vintage style so unpalatable in modern times...
they are so pretty the same as designer lamps.
Desk lamp 1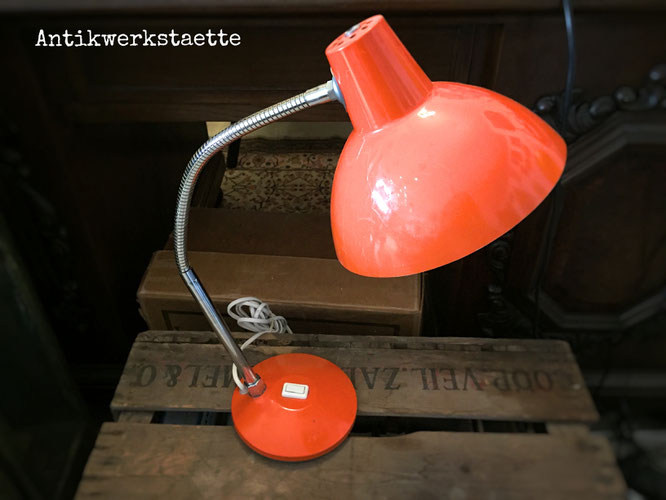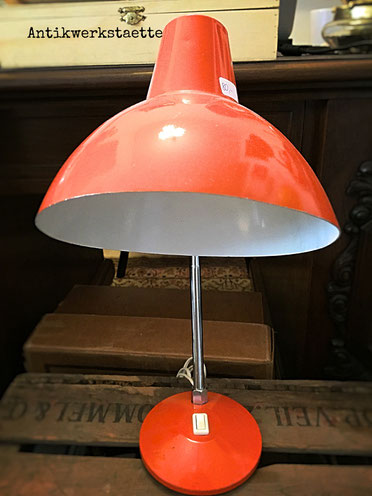 Vivid orange color is an eye-catching desk lamp.
The height is 45 cm (at normal use), the price is 80 euros.
Desk lamp 2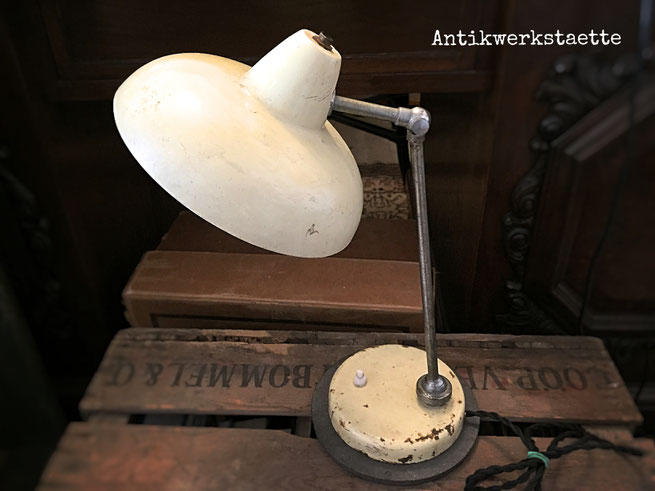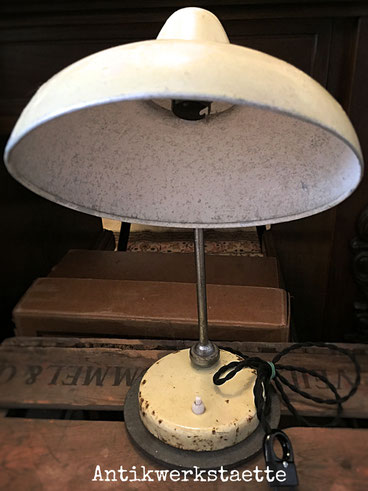 Off-white desk lamp.
Although you can see rust everywhere,
It is a lamp that seems to be as it is an industrial style.
The height is about 37 cm, the price is 80 euro.
Desk lamp 3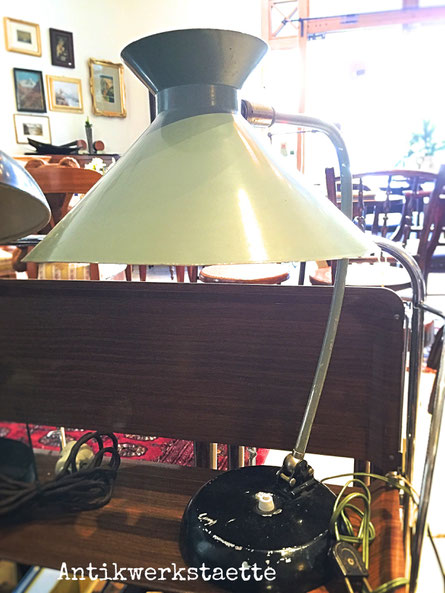 This desk lamp has cute large lamp shade.
The combination of moss green and black color is also wonderful.
The height is about 43 cm, the price is 80 euro.
Desk lamp 4+5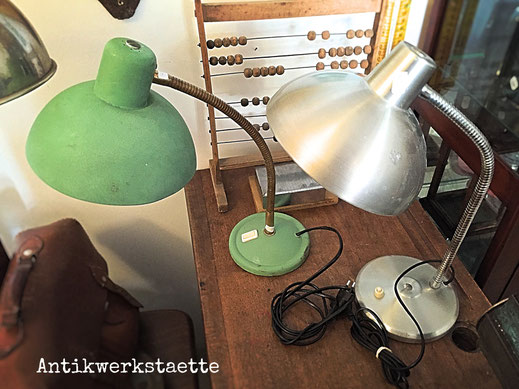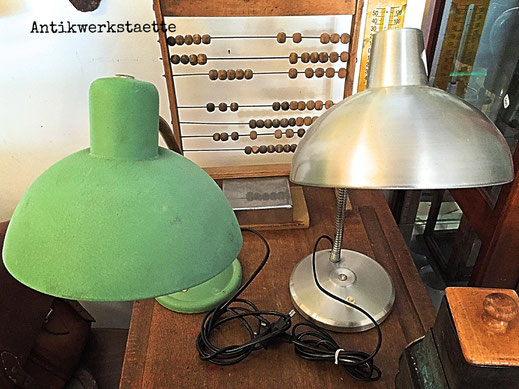 The last...
There are two simple desk lamps.
The green lamp has a soft color and a cute impression that the overall rounded design.
Silver lamps are very simple so you can use it everywhere.
Ideal for offices and others.
The green lamp is about 40 cm tall,
The silver lamp is about 44 cm tall,
Both prices are 80 euros.
New lamps make your room new-look
How was the special feature of the lamps this time?
I think that I could introduce many unique lamps.
The lamps are essential for the daily life,
and they are very good interior that makes it easy to change the impression of the room.
When the atmosphere of the room got a little bored,
lighting equipment,
Especially the stand lights, desk lamps, etc.,
just changing the light will change the impression a lot.
So when you prepare for the new season,
I recommend changing from lighting fixtures.
Please find your pretty lamp!