Introduction of classical antiques
There were few new items last week and so I did not update my blog.
It is a blog for two weeks.
It is almost the end of August by the way...!
Summer is almost over.
Well this time,
I would like to introduce various classical antiques.
Recently a lot of classical style large furniture style has arrived in our shop.
Vintage items are fewer than before.
Basically, the items handled by our shop are based on the requests when customers visited us.
Recently, there were many inquiries of classical antiques,
so new classical products  increased.
A few months ago, many customers wanted vintage products,
so that's why there were so many vintage products in our shop before, especially industrial style items.
(Purchasing is decided by owner's taste when there is no particular demand etc ...)
So, if you are looking for some antiques,
or you wish there were special furniture...
If you have such a request,
Please do not hesitate to contact us even from the Web.
We will propose some beautiful antiques for you by e-mail or SNS. 
Products introduction on 24 Aug 2017
So this is an introduction of the products I will write on this blog.
This time,
Art Nouveau side table,
Art Nouveau working stool,
Art Nouveau rattan stool,
Historismus cabinet,
Biedermeier chest,
I would like to introduce the five items above.
It is splendidly a classical antique only.
Art Nouveau Side Table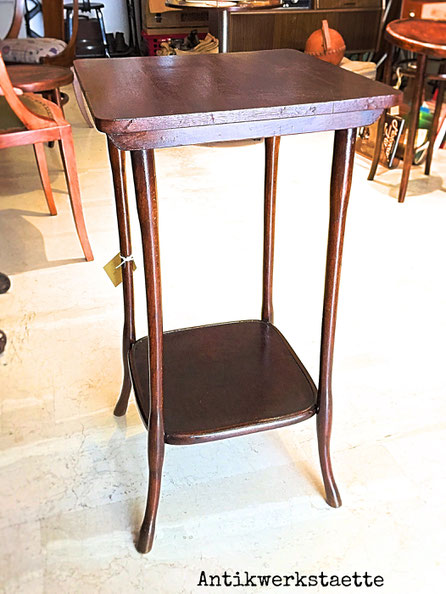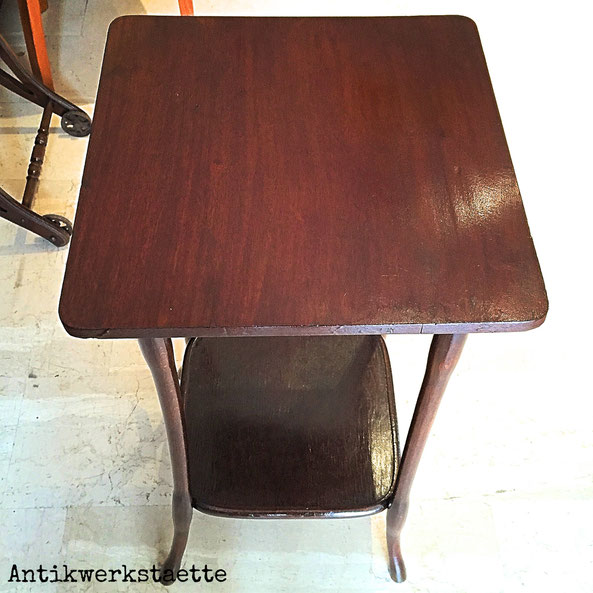 The first item I introduce is Art Nouveau side table.
It has an unique square surface as a side table,
and it is a side table which is two-tiered.
Although it is a simple design as an Art Nouveau design,
the gentle curves of the legs are beautifully designed like Art Nouveau.
The height is about 78 cm,
and it is a little bit higher as a table.
So besides the side table,
it can be used as a flower stand or a small shelf.
Because the table surface is also wide,
it is convenience to put something.
Recommended for a person who looking for furniture that is easy to use as well as good designed.
Originally it did not have scar or lack so much,
but it has been restored, polished with dark colored shellac.
The price is 130 euros.
Art Nouveau Thonet Working Stool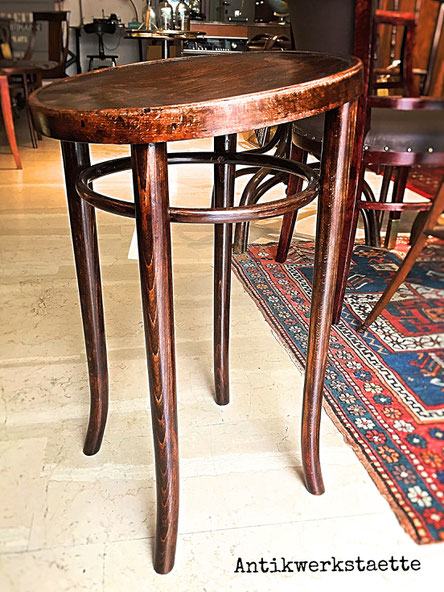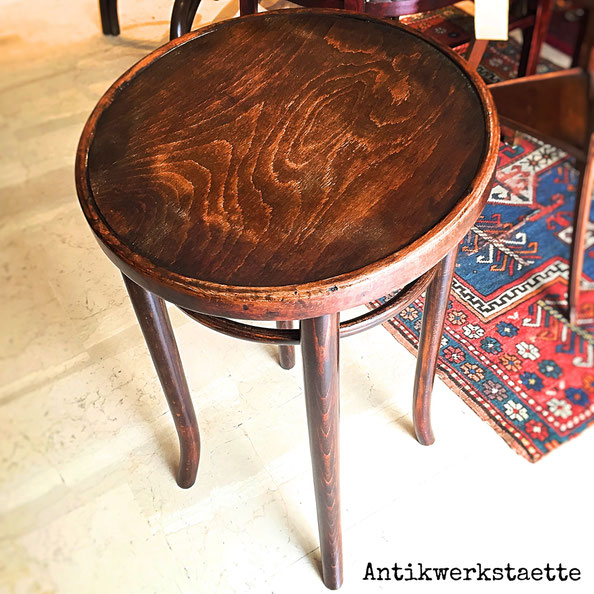 The next item is a Thonet working stool.
It is a rare stool that is tall and its seat is oblique,
and this is a Thonet stool at Art Nouveau period.
Bendwood Legs are typical Thonet,
and this stool has beautiful circular seating surface.
This sturdy light stool is convenient and excellent furniture.
The height is 65 cm,
so for me it is a little bit too high because my height is less than 160cm...
Probably if you are over 170cm,
I think that it is a very convenient chair to sit down and stand up quickly.
That's right.
It's just a working stool, not a chair for relaxing.
The seat surface is oblique because people can easily stand up.
Of course, it is perfect in your office,
but also you can use it in kitchen or counter in your house.
The price is 180 euros.
Art Nouveau Thonet Rattan Stool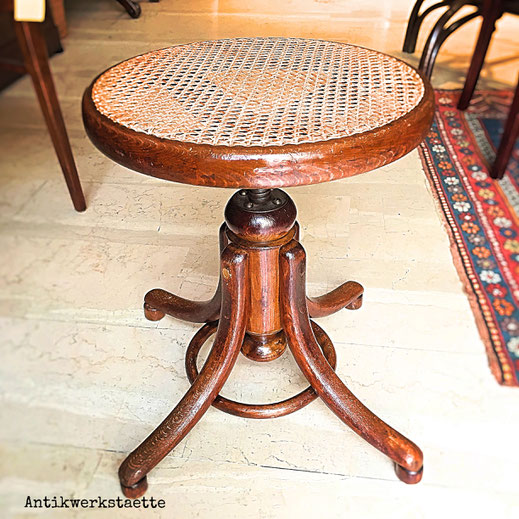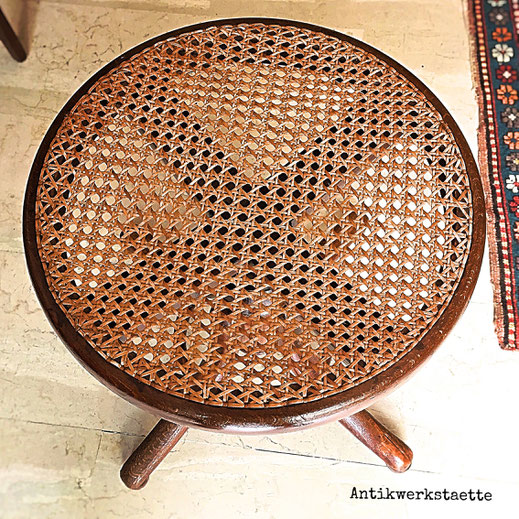 The next item is also Art Nouveau stool.
This is an Art Nouveau rattan stool.
This is also a product of Thonet,
this bendwood is very impressive and beautiful.
Although the seating surface is not a leather or a fabric but a rattan.
Art Nouveau design has originally adopted the art of East Asia,
so rattan is relatively used in the furniture those Art Nouveau era.
Rattan is a very delicate wood,
so of course we changed it during restoration ...
(so the rattan is not original.)
Thonet used the rattan in many furniture, especially a chair.
This stool is a rotary round chair,
and can be adjusted the height about 42 to 52cm.
It is convenient,
because you can adjust the height according to the people who use or for the table.
The price is 190 euros.
Historismus Cabinet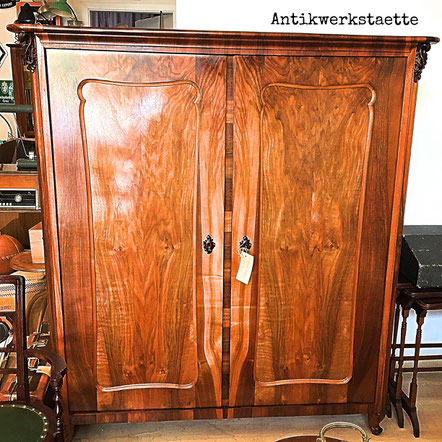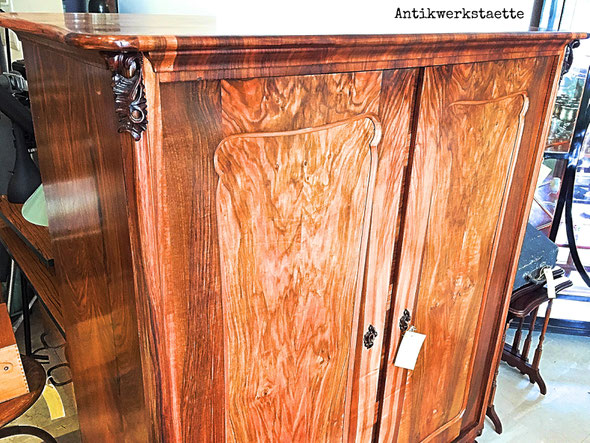 The next item is a cabinet,
it looks really classical style.
This cabinet is made in the end of the Biedermeier period to the early Historismus period.
Heavy and simple appearance like Biedermeier style,
and it is a design combined with Historismus like pretty decorations.
It is like Historismus style,
It fits with the classic style such as Empire style or Victorian style.
Because it also combine the Biedermeier style,
it has no intense decoration,
so it is also easy to match with modern furniture.
This cabinet is kind ofunusual size.
Height is 143 cm, width is 130 cm.
It is large, but it is short.
It is no problem even if putting something on the cabinet,
or it might be just right to put this cabinet under the wall shelf.
Since the front is not glazed like cabinet,
you can store anything in dishes or documents.
It is large capacity because it has a width.
This is a really convenient cabinet.
The price is 450 euros.
Biedermeier Chest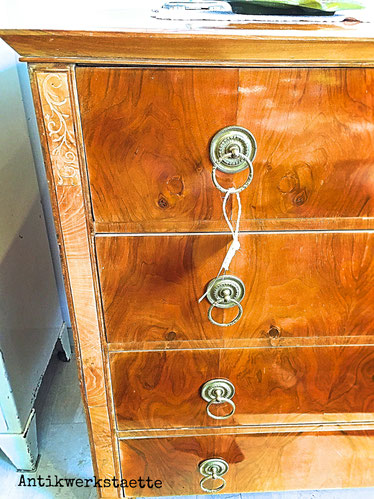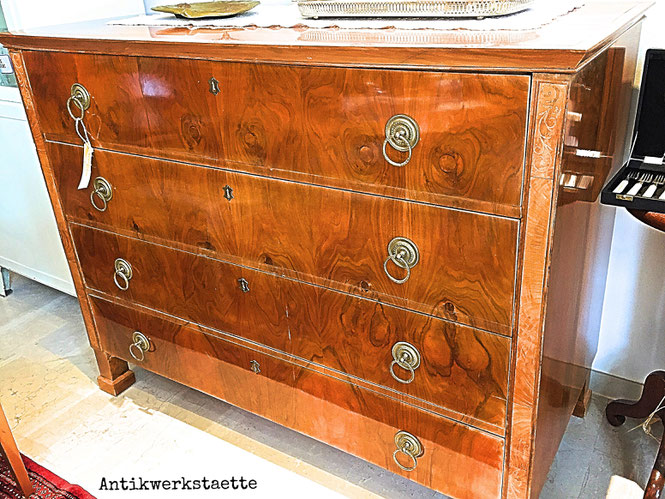 This is the last item.
The last is a Biedermeier chest.
The Biedermeier chest is one of the signboard products of our shop,
handling many times and went to many customers' places.
The chest of this time is bigger than before.
Many chests have three drawers,
but this has four drawers, adn relatively taller.
The size is...
H102 cm x W130 cm x D65 cm, and large capacity.
Also this chest is slightly different from other chests in appearance.
We handle Biedermeier chest which has normally no or a few decoration.  
So it was designed to enjoy simple wood texture and gloss of shellac.
But this chest is not much different from the previous ones at first glance.
However, when looking closely,
parquet work is done in front of the top board and the side plate,
so it has more gorgeous atmosphere.
The color is also vivid,
so the space becomes quite gorgeous with just this furniture.
The price is 950 euros.
Classical style antiques for autumn
This time I was able to introduce a glamorous and rare antiques.
Even they are classic style,
they are made in 100 to 200 years ago,
so it was relatively affordable antiques only.
Antiques of this time period are recommended for those who purchase antiques first time or those who want to use everyday.
It is recommended because price is low and design is simple and easy to handle.
In August it will be over soon.
so enjoying antiques at the beginning of autumn may be fun.
If you are interested in antiques,
why do not you try to arrange some new antique furniture this autumn.